Main content
"A top tip from me: You should hug a tree" – The best quotes from The Gemma Collins Podcast
It's official: Gemma Collins has her own podcast on the BBC.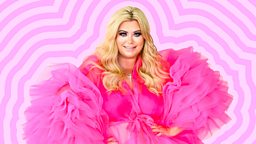 It's been a long time coming, but The GC finally has a platform to air her views on everything – from spirituality, to saving animals, to travel tips, to her obsession with having a nice cup of tea.
"I cannot wait for the listeners to get an insight into my real life," she says. "If you've ever wanted to sit down for a chat with me, that's what this podcast is going to be like - it's going to be fun, it's going to be funny and it's going to be honest."
In episode one of The Gemma Collins Podcast, she shares some great advice and insight, plus some timely philosophy about how to stay connected to your true self.
Here are some of our favourite Gemma quotes so far...
On keeping a sense of privacy...

Gemma shares countless opinions on her podcast, but she's not giving the game away about where she lives.
The only clue she shared: "It's a very tranquil place. It's in the middle of the woods." She loves nature, and she likes to take a moment to stand outside and appreciate her surroundings. "It's so beautiful when I see deers go through the garden, or the fish going up through the pond and sucking for air... I love butterflies."
On taking each day as it comes...

Gemma isn't a fan of how social media pushes us to share a fake, always-happy version of ourselves. "The Instagram and the way everything's being portrayed, you've gotta live this perfect life.
"You know yourself listening to the podcast: You're not happy every day, things don't go to plan every day.."
On being in touch with nature...

Don't knock it 'til you've tried it, Gemma says.
"I love the energy from the trees. If ever you feel tired or fed up in life, it's really important to take yourselves back to nature.
"If you're feeling tired and you hug a tree, you can get the most amazing energy. Just calm your mind, ground your feet on the grass, hug that tree – and you will get the most amazing vibrations from the tree."
On always being prepared...

It should be a breeze, jet-setting around the world, but let's face it – it's never comfortable.
The GC is a big advocate for lip balm, always taking a phone charger, and keeping a passport in a bright, easy-to-spot holder – just in case you accidentally leave it in duty-free.
But a handheld mirror is the most important travel accessory.
On the responsibility of being famous...

When Gemma's in full diva mode, there's almost always a camera in her face.
It might sound easy being a reality star, but imagine not having enough privacy to let a sneaky one out? Nightmare.
"You're thinking, 'Oh come of it Gemma, you're walking around Hollywood getting filmed." But she can't kick back, "because guess what – it's gonna be picked up by the camera."