Main content
Beth's frenetic fury! — how we shot three scenes in one take to achieve the director's vision
By Series Producer - Catherine Gosling Fuller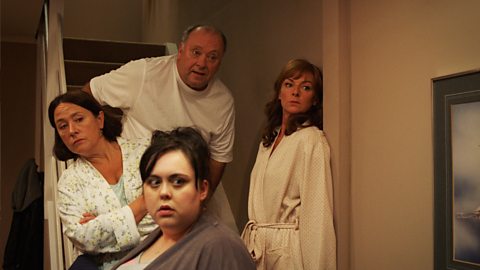 A section of the final programme alongside the crew's block through.
Three scenes from episode two were filmed as one to get the frenetic energy in performance and to show the increasing demands on Beth!

Our crew blocked through this scene one lunchtime in order to establish whether or not a steadicam would be needed to achieve the director's vision. The pictures have been speeded up but you can see here how closely the crew's block through and the final scenes match.

Although maybe not the performances!
More exclusive videos
Beth's slightly overbearing and demanding neighbour Christine (Elaine C Smith) gives us her opinion on each of her neighbours, whether we want to hear them or not.

Compare what was rehearsed to what was shot for the garage fight scene.

We reveal the true goings on during the filming of Two Doors Down

Sometimes the people closest to you always give you the most grief