Main content
Katie Bulmer-Cooke
Katie was the first candidate to go in week 10 after her team lost the premium pudding task under her direction as project manager. Lord Sugar felt she lacked the vital ingredients to become his business partner, especially given the fact she aspires to enter the restaurant business one day. Katie remained characteristically positive on her exit, stating "I've learnt skills I didn't even know I had."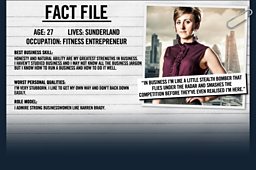 About Katie
Katie is a personal trainer and has been awarded Fit Pro UK Fitness Professional of the Year 2013, IFS UK Personal Trainer of the Year 2012 and Fit Pro & Life Fitness Worldwide Personal Trainer To Watch 2012 Top Ten. Although Katie has worked as a health and fitness expert for Argos and currently creates and markets her own work-out programmes and DVDs, she has no formal business training.
Katie might not have knowledge of 'business jargon', but she looks to strong businesswomen like Karren Brady for motivation and claims she still knows how to run a business well. She would describe herself as honest, down-to-earth and energetic, but also as someone who is stubborn and 'doesn't back down easily'.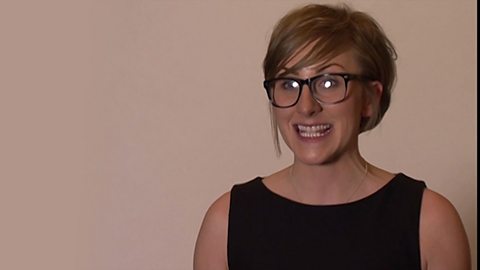 Katie's like a little stealth bomber - can she take out the competition?