Main content
The All Star Band
When 6 Music presenter Shaun Keavney learned the drums for BBC Music Get Playing, he needed a band in which he could display his new-found skills.
Professional celebrity-botherer Jamie Stangroom took up the challenge of finding Shaun some big names to play in his band - including a wookie on a kazoo and Modern Family's Eric Stonestreet shaking a hip-hop eggshaker.
Musical thoughts and advice from a galaxy of stars
Iwan Rheon wrote his first album, Dinard, while filming Game of Thrones.

Eric reveals what made him pick up the drumsticks for the first time.

Eric Stonestreet lays down the rhythm to Jamie Stangroom.

Game of Thrones' Hodor and Young Hodor give musical tips.

Paralympic presenter and Breaking Bad actor R J Mitte is a DJ who plays everything from hip-hop to reggae and rock. What instrument will R J Mitte play in Shaun's band?

DJ and producer Ahmed Best on why formal musical training isn't always necessary. Ahmed produced Shaun's All Star Band track.

Dominic Monaghan reflects on musical styles in Lost and Lord of the Rings.
The All Star Band track in full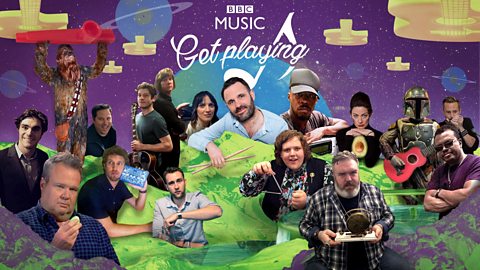 Featuring stars from Breaking Bad, Game of Thrones, Dr Who...and a wookie on a kazoo.
The band takes shape on Shaun's breakfast show
Irreverent music lover Shaun serves up music, features and entertainment.