Main content
Jemma Bird
Jemma was fired in week five after the Coach Tours Task having been accused of not contributing to the task. Lord Sugar said, "The big worry I have is I don't know what you've been doing here for five weeks to be honest." Of her firing, Jemma said, "Obviously I'm disappointed. You live and you learn. I know at some point I'll win something!"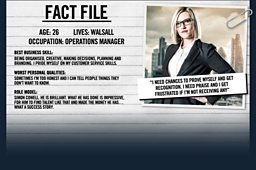 About Jemma
Jemma is passionate about the arts and is a trained dancer and dance teacher, having first taught dance at the age of 13. She prides herself on her customer service skills and says she is organised and creative, but perhaps a little too honest for some!
Operations Manager Jemma's proudest business achievement to date has been founding an entertainment cabaret agency, for which she scouts performers, sources bookings, produces performances and markets the business - something her well-developed organisational and decision making skills come in handy for! One of her role models in business is Simon Cowell, for his lucrative success story within the entertainment industry.