Main content
6 Music's Wear Your Old Band T-Shirt to Work Day 2014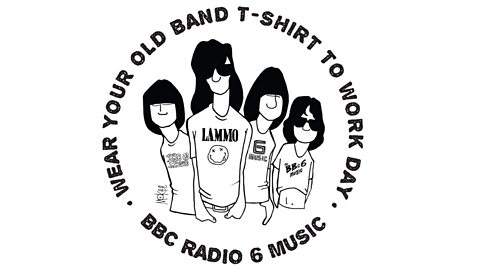 T-shirt Day 2014 is on the 28 November - can you spot yourself in your t-shirt from 2013?
On Friday 28 November 2014, we are urging every music fan across the land to put on their most prized band T-shirt and wear it with pride for the duration of the working day.
Carter USM and Steve Lamacq with the crowd at Maida Vale Studios
Wear Your Old Band T-Shirt To Work Day launched in style on Friday 7 November with the ultimate T-shirt band, Carter USM, playing their final ever radio session at the BBC Maida Vale studios for the Steve Lamacq show. The whole audience showed the spirit by sporting their Old Band T-shirts for the gig.
#6musictshirtday WYOBTSTWD Giveaway - Monday 17 - Thursday 27 November 2014
This year, we want you to be involved more than ever by designing your very own band T-shirt. This can be for your favourite band, a gig or tour you attended or just a dream design for Wear Your Old Band T-Shirt To Work Day 2014.
Your designs can be as simple or as elaborate as you like, and anyone can get involved – there are no limits.
All we ask is that your designs are your own work and must be original.
**Download your T-Shirt Day template here**
Once you've completed your masterpiece, send it back to us via our Twitter, Instagram or Facebook page using the hashtag #6musictshirtday, or via email to lamacq.6music@bbc.co.uk with '6 Music T-shirt Day' in the subject header.
When you send in a photo or file of your design, please give us a little background on that special garment. Which band is it for? Why did you choose this particular design? Why are you so proud of it?
A selection will be placed up on the 6 Music social media pages and some may be referenced on air by Steve Lamacq.
You have until 7pm on Thursday 27 November to send in your designs.
Steve will then choose one which stands out from the crowd and will have it printed for him to wear for the final hour of the show on T-Shirt Day itself - Friday 28 November!
The chosen person will also be sent a collection of T-shirts designed by the 6 Music presenters.
#6musictshirtday 2014: Selected T-Shirt Designs