Main content
Your Ultimate 90s Album – Revealed!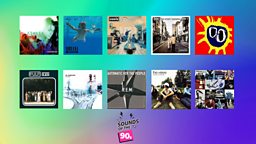 Published Sat 13 June 2020
We've been asking Radio 2 listeners to vote for their Ultimate 90s Album, and after tens of thousands of votes, we can now reveal the results.
A reminder of the voting process: In true 90s fashion, we had a Top 40 for you to choose from, selected by a panel of music experts. The shortlist was based on sales from each year of the decade, alongside a selection of albums that have endured the test of time, and some slow-burners that weren't huge hits on release, but are now highly regarded.
Without further ado, here's a closer look at the top 10...
10. U2 - Achtung Baby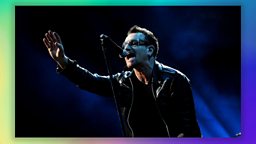 Released: 1991
Highest UK chart position: 2
At the turn of the decade, stadium giants U2 needed to evolve and make themselves purpose-built for a new age. And so it proved, with Bono and co. – alongside masterful mentor Brian Eno – following career-high [1987's] 'The Joshua Tree' with a smart, dance-oriented stroke of genius. Not only did their sound become sharper, heavier and more willing to take risks on 'Achtung Baby' – the band themselves changed. They became more cheeky, mysterious (barely promoting the album's release) and less self-serious. For any future world-conquering bands, this record serves as a perfect guide on how to reinvent yourself.
Did you know? Standout song 'One' was written in just 15 minutes, Bono told the writer Niall Stokes.
9. Primal Scream - 'Screamadelica'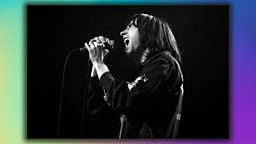 Released: 1991
Highest UK chart position: 8
"My attitude was that rock'n'roll should be a celebratory, euphoric, ecstatic experience. High energy. Ram-a-lama!" Primal Scream's Bobby Gillespie would later explain of his band's aims with their mind-bending, genre-blurring trip of a third album. "I felt that rock had become too inward and it was maybe a bit too serious. I felt that what we were doing at that point was what rock'n'roll should be, except it was modern, it was futuristic." The Andrew Weatherall-produced 'Screamadelica', then, was a bold departure from the band's early indie sound, incorporating rave, dub and even heady gospel elements, as well as exhibiting some of the hedonistic, rock n roll swagger that would later exemplify Britpop.
Did you know? 'Screamadelica' won the first-ever Mercury Prize. In 1992, Primal Scream's album triumphed in the inaugural ceremony against the aforementioned 'Achtung Baby', The Jesus and Mary Chain's 'Honey's Dead' and Simply Red's 'Stars', among others.
8. The Verve - 'Urban Hymns'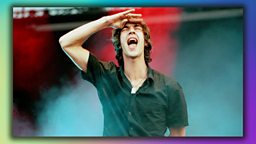 Released: 1997
Highest UK chart position: 1
'Urban Hymns' is an album that almost didn't happen. Following 'A Northern Soul' two years prior, the uneasy relationship between frontman Richard Ashcroft and guitarist Nick McCabe deteriorated to the point of McCabe leaving the band. Ashcroft gathered his other bandmates, and recruited guitarist/keyboardist Simon Tong, to help record what looked likely to be a solo record. Realising the value of McCabe's guitar work to the band's sound, Ashcroft and co. soon reunited with their estranged member. But the resulting album was far grander and more cinematic than anyone predicted - from the celestial 'Lucky Man' to the euphoric 'Bitter Sweet Symphony'.
Did you know? Although their only charting single in the U.S, the band's seminal anthem 'Bitter Sweet Symphony' wasn't actually the biggest single from the album in the UK. The song reached No.2 in the UK charts in June 1997, followed by 'The Drugs Don't Work', which reached No.1 in September that same year.
7. Alanis Morissette - 'Jagged Little Pill'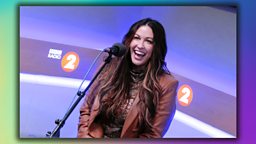 Released: 1995
Highest UK chart position: 1
Alanis Morissette's 1995 third album was somewhat of an unexpected cultural phenomenon. While her previous two records charted only in the singer-songwriter's native Canada, this now-classic record originally entered the UK chart in August 1995 at No.76, before eventually reaching the top spot in May the following year, going on to become the fifth highest-selling album of the 1990s as a whole in the UK. With 'Jagged Little Pill', Morissette ditched the dance-pop of her earlier works, instead harnessing a whole new raw energy in her grungy, alt-rock sound, combined with meticulous, memorable songwriting. As producer and collaborator Glen Ballard later recalled to Billboard: "I thought 'I don't know what this is — what genre it is — who knows? It's just good."
Did you know? 'Jagged Little Pill' has inspired a musical of the same name, which is based on the album and saw Morrissette work on the project with composer Tom Kitt (known for Green Day's 'American Idiot' musical) and writer Diablo Cody (an Oscar-winning script-writer responsible for 2007 film Juno).
6. Pulp – 'Different Class'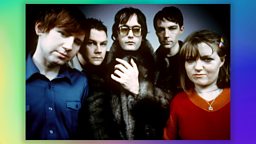 Released: 1995
Highest UK chart position: 1
One of the defining records of a bright, booming Britpop era, 'Different Class' is a sophisticated, witty, deceptive charmer that firmly put Pulp on the map after the success of 1994's 'His 'n' Hers'. Singles such as 'Common People' and 'Disco 2000' have stood the test of time, in part thanks to the clever storytelling of iconic frontman Jarvis Cocker.
Did you know? The married couple in 'Different Class'' sleeve had no idea this photo would become the record's cover. Photographer Donald Milne agreed to capture their wedding day, on the condition that he could bring some life size cut-outs of Pulp to the event, as he was working with them at the time. Groom Dom O'Connor told BBC Radio 6 Music's Chris Hawkins in 2014 that he only discovered his face was plastered on copies of the album when he saw posters advertising the record in HMV shops.
5. R.E.M. – 'Automatic For The People'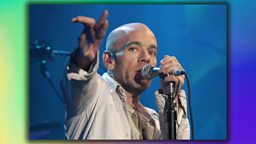 Released: 1992
Highest UK chart position: 1
By 1992, R.E.M. were already one of the biggest bands in the world - seven albums in and already a Best Of collection to their name. But 'Automatic For The People' would cement Michael Stipe and co's status as one of the greatest groups of the 80s and 90s. The album was darker, starker and more ruminating than the band had been before. Backed by string arrangements from Led Zeppelin's John Paul Jones, it featured some of the band's greatest songs: 'Man on the Moon', inspired by cult comedian/performance artist Andy Kaufman, and the seminal and timeless 'Everybody Hurts'.
Did you know? The album's cover features a photograph of a star-shaped ornamentation that used to sit atop Sinbad Motel on Miami's Biscayne Boulevard, sadly since damaged in a hurricane. The album was partly recorded in Miami and producer Scott Litt later revealed that the album was almost called 'Star'. "Hence the object on the cover that Michael had photographed and really dug," Litt told Mojo. "It helps to have some kind of focus in the studio, so the photo was stuck up."
4. Oasis – 'Definitely Maybe'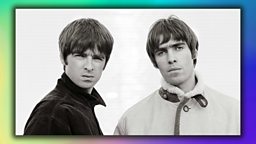 Released: 1994
Highest UK chart position: 1
Extract any of 'Definitely Maybe''s individual songs, and each is a classic in its own right. Combine them all and you're left with an unbelievably bold, in-your-face, self-assured debut album. Featuring 'Live Forever', 'Supersonic' and 'Rock 'n' Roll Star', the record paved the way for the Gallagher brothers' 90s dominance, taking them from Burnage, Manchester all the way to selling out massive concerts at Knebworth. Packed with wall-to-wall anthems that still live strong, it's the sound of a band living carefree, debauched lives, coincidentally writing some of the decade's greatest songs.
Did you know? Noel Gallagher was given a Gibson Les Paul from Johnny Marr prior to recording 'Definitely Maybe'. Marr himself purchased the guitar from The Who's Pete Townshend a few years prior. Passed through generations of guitar legends, it helped bring out the track 'Slide Away'.
3. Nirvana – 'Nevermind'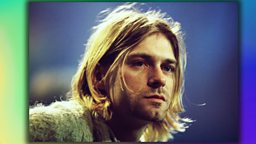 Released: 1991
Highest UK chart position: No. 7 in 1991; No.5 in 2011
Nirvana's commercial breakthrough with 'Nevermind' came as a surprise to many - not least of all the band themselves. But the Seattle trio's 1991 second LP epitomised the flourishing grunge scene as a whole in its exhilarance, irreverence and sheer defiance to the mainstream that it would ultimately change the landscape of. The group would sadly only release one more full-length album (1993's 'In Utero' coming a year before singer Kurt Cobain's tragic passing), but 'Nevermind' was full to the brim of songs that would continue to enthrall listeners - new and old - for the decades to follow: from the pure angst of 'Smells Like Teen Spirit' to the quietly haunting 'Something in the Way' and sardonic singalong of 'Lithium'.
Did you know? 'Nevermind' has a much fuller sound than its rough-edged and raw predecessor 'Bleach' and a lot of that is owed to the double-tracking of Cobain's vocals. But Cobain was originally reluctant to use the popular recording technique, with producer Butch Vig noting that Kurt "thought it sounded too fake". However, Vig managed to convince Cobain to change his mind after mentioning that "John Lennon did it". Vig later recalled that Kurt "pretty much double-tracked all the vocals after that."
Dave Grohl & Krist Novoselic talk to Steve Lamacq about the heady Nevermind days
2. Oasis – '(What's The Story) Morning Glory?'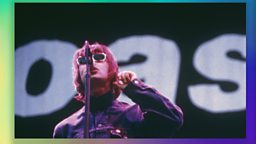 Released: 1995
Highest UK chart position: No.1
In terms of chart success, there was no bigger album in the UK during the 90s than Oasis' '(What's The Story) Morning Glory?'. It was the best-selling record of the decade, selling a mammoth 345,000 copies in its first week alone and going on to spend 10 weeks at top spot. In fact, the album didn't drop out of the UK Top 3 for seven months. This was undeniably a band at the height of their powers - the Britpop group dialled back the rock n roll swagger of 'Definitely Maybe' and amped up the choruses instead, resulting in stadium-filling classics like 'Wonderwall', 'Don't Look Back in Anger' and 'Champagne Supernova'.
Did you know? Paul Weller, a major musical influence on the Gallaghers, features multiple times on the album - playing guitar and singing backing vocals on 'Champagne Supernova' and playing harmonica on the two untitled tracks. The sleeve notes for the album pay tribute to Weller with the words "Eternal respect to P.W".
1. Radiohead – 'OK Computer'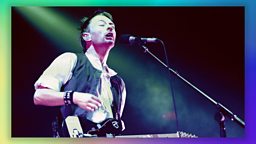 Released: 1997
Highest UK chart position: 1
You voted in your droves to make 'OK Computer' your Ultimate 90s Album. Following 1993 debut 'Pablo Honey' (containing synonymous single 'Creep') and 1995's acclaimed 'The Bends', few could have anticipated the giant leap Radiohead would make on their third record.
An enduring classic from start to finish, it contains six-and-a-half minute epics steeped in unease ('Paranoid Android'), an eerie robot-voiced interlude ('Fitter Happier') and some of the band's most bittersweet, beautiful songs ('No Surprises', 'Lucky' to name just a couple). Pinning it together is a deep sense that not all is well; a distrust of technology, artificial intelligence and algorithms that still permeates today. And in a decade defined by charmingly confident Britpop, optimism-soaked pop and gnarly grunge, it sticks out like a sore thumb.
Colin Greenwood (bass) says: "I'm just really grateful and happy that people love the record and those atmospheres captured in that magical place stand up today and you can hear them on the record."
Philip Selway (drums) says: "My favourite track on the album is 'Let Down', we recorded that song in a spooky Tudor manor house just outside Bath, and whenever I hear it I can easily place myself back amongst the five of us playing late at night, in a wood panelled candlelit room feeling ever so slightly strung out."
Fearne Cotton says: "It's been fascinating to look back at some of the seminal albums of the 90s and see which have stood the test of time. The nation has spoken and Radiohead are victorious. I think this album, OK Computer, captures the mood of the decade and became a personal favourite for so many with memories of happiness and pain wrapped into its nostalgia. An all-time classic."
Did you know? The album's working title was the slightly less catchy 'Your Home May Be At Risk If You Do Not Keep Up Payments'.
Other albums shortlisted: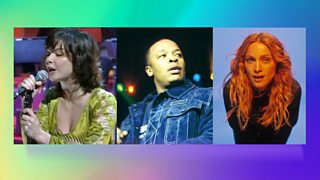 Arrested Development - 3 Years, 5 Months & 2 Days in the Life Of...
Björk - Debut
Blur - Parklife
Britney Spears - ...Baby One More Time
Christina Aguilera - Christina Aguilera
Destiny's Child - The Writing's On The Wall
Dr Dre - 2001
Eminem - The Slim Shady LP
Fatboy Slim - You've Come A Long Way, Baby
Fugees - The Score
George Michael - Older
Green Day - Dookie
Guns N' Roses - Use Your Illusions 1 / 2
Happy Mondays - Pills 'n' Thrills and Bellyaches
Lauryn Hill - The Miseducation of Lauryn Hill
Madonna - Ray Of Light
Mariah Carey - Music Box
Massive Attack - Mezzanine
Michael Jackson - Dangerous
Moby - Play
Paul Weller - Stanley Road
Red Hot Chili Peppers - Blood Sugar Sex Magik
Shania Twain - Come On Over
Simply Red - Stars
Spice Girls - Spice
Take That - Everything Changes
The Prodigy - Fat Of The Land
TLC - CrazySexyCool
Travis - The Man Who
Whitney Houston - My Love Is Your Love
How much do you know about some of the biggest and best-selling 90s albums? Put your knowledge to the test with our special quiz.