Main content
Mark Gatiss: Why ghost stories are perfect for Christmas
Mark Gatiss is bringing the Christmas ghost story tradition back to life with The Dead Room on BBC Four. The League of Gentlemen and Sherlock star tells ALASTAIR McKAY all about his longstanding love of a festive fright – and his plans for the greatest vampire of them all, Dracula.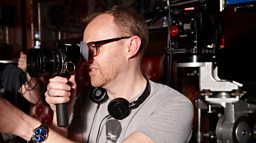 Mark Gatiss has written and directed The Dead Room for BBC Four
I don't think I've ever seen a ghost from the Seventies, and I thought, 'Hmmm, interesting'

Mark Gatiss
Not far into Mark Gatiss's supernatural tale, The Dead Room, the lead character, a seasoned ham called Aubrey Judd (played by a ripe Simon Callow), decides to explain the essence of the ghost story.

Aubrey, an actor no longer at the peak of his fame, has been "bringing mild disquiet to radio listeners since 1976", and understands the formula. First of all, there must be calm. "And into this apparent calm... the Bad Thing rears its ugly head." The story, to work, requires restraint. "Hold back," Aubrey suggests, "always hold back until the climax."

The innuendo is deliberate, of course, because Aubrey is an inappropriate old luvvie, and Gatiss is using him to explain the rules of the genre, as set down by MR James, whose tales formed the backbone of the BBC's 1970s series A Ghost Story For Christmas, spooking Gatiss, and inspiring him to continue the tradition.

Gatiss recalls: "I used to do The Man In Black on Radio 4 Extra. That was a big moment for me, because Valentine Dyall did it during the war and it was a very famous thing. The producer was always asking me if I'd write one of the stories. I said, 'All right, I'll do the very last one - I know what it will be. It's called The Dead Room, because it's set in this radio studio, and it should be about me being haunted, so it's like a completely meta thing.'"

The idea lay dormant for a while, and came to life when Gatiss was offered a low-budget commission by BBC Four. Suddenly, filming the making of a radio show made sense.

He says: "Then I thought, it's modern, so I want to make it about sound. Applying MR James's rules, he thinks the ideal ghost should be from about 30 or 40 years ago. That means that the ghost needs to be from the 1970s. I don't think I've ever seen a ghost from the Seventies, and I thought, 'Hmmm, interesting'."

James's other rules suggest that the ghost must be malevolent. "He had no time for friendly ghosts. And one of his big things is, of course, no sex. I broke that rule."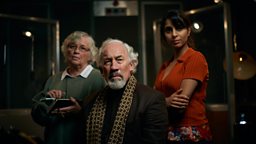 The Dead Room stars Susan Penhaligon as Joan, Simon Callow as Aubrey and Anjli Mohindra as Tara | Image: Steve Schofield / Adorable Media
Watch Gatiss get spooky
His chilling new ghost story, set in a radio studio, is on BBC Four on Christmas Eve at 10pm.
Classic MR James on BBC Four
Modern psychologists have a field day with James's stories

Mark Gatiss
For Gatiss, repression is clearly a a big part of James's work. That may also be why The Dead Room is like Death In Venice re-imagined by Roald Dahl.

He says: "Modern psychologists have a field day with James's stories. There's an extraordinary moment in one of them when the protagonist puts his hand under the pillow. He's telling it to a friend, and he says: 'It was a mouth, with teeth and hair, but not the mouth of a human being'. That's one of my favourites. It's entirely vagina dentata. He's afraid of hairy things, made of women, definitely."

Gatiss has also attempted to replicate the reticence of the original A Ghost Story strand, as directed by Lawrence Gordon Clark.

He points out: "There's no music. The score is entirely created from sound effects. I didn't want to hammer anything out. I love that about Lawrence Gordon Clark's Ghost Stories. They're very spare. You don't see the ghost for a long time, and there's a slow accumulation of dread. It really does exert something very special if you get it right. If you don't overdo it, it brings you to a very particular place of fear."

Fans of The League of Gentlemen may note similarities with Dead Line, the recent live episode of Inside No 9. Steve Pemberton and Reece Shearsmith's drama got pretty meta about live TV drama. But there was no conferring. Gatiss made his drama first, and while he had gleaned some idea of what his League friends were planning, was as startled as any viewer when the sound cut out live. He also became part of the show, by accident.

Gatiss reveals: "One of the amazing things that happened is that Reece says: 'Mark's just WhatsApped me saying 'You're on TV now' and he tweeted: 'Are Steve Pemberton and I on BBC Two now?' I replied 'Yes', and my tweet was the first one. But by total coincidence. Everyone thought it was all organised, and it really wasn't."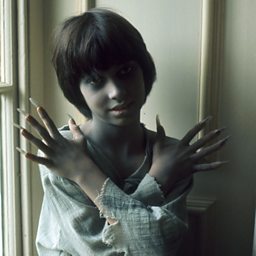 Lost Hearts was adapted in 1973 for the BBC's A Ghost Story for Christmas strand
We start shooting Dracula in the spring. Claes Bang will be the Count - he looks like Christopher Lee and Bela Lugosi combined.

Mark Gatiss
The Dead Room offers an interesting diversion for Gatiss, whose career as a dramatist has been turbo-charged by his writing for Doctor Who and Sherlock. His next project with his Who/Sherlock collaborator Stephen Moffat is an adaptation of Dracula, though he balks at the suggestion that the vampire tale is a ghost story in disguise.

Gatiss argues: "It's a horror story. The great thing about Dracula being constantly interpreted is that it always means something to different generations. I'm not quite sure what it is yet, because we'll have to see when we've made it. But vampires always seem to speak of their times. It is the novel, not strictly as it was written, but in three parts.

"We start shooting in the spring. Claes Bang will be the Count. He looks like Christopher Lee and Bela Lugosi combined, he's six foot five, and he's really terrific. It was like Sherlock, we didn't actually consider anybody else other than Benedict Cumberbatch. The same happened with Claes. We saw him in a film called The Square, and then just thought, 'Well, who else could it be?' Maybe he is Dracula, and that's been Dracula's plan all along."
Award-winning Danish actor Claes Bang (The Girl in the Spider's Web, The Affair, Borgen) will take on the role of Dracula in Steven Moffat and Mark Gatiss' brand new mini-series inspired by Bram Stoker's classic novel.
More festive offerings from BBC Arts
Arts highlights on BBC iPlayer