Main content
Walking the Coast of Wales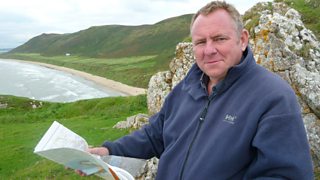 Jamie Owen walks the length of the Wales coastal path in his new series on Radio Wales (Saturdays at 1 PM, repeated at 5 PM). In this blog he shares his experience of the mammoth trek, and what we can expect to hear in the programme.
How do you fancy walking the new Wales Coast Path for a new eight-part series for BBC Radio Wales? I didn't have to be asked twice, I was out the door before you could say 'grab your boots' or 'bleeding blisters'. What a treat.
I've sailed around the coast of Wales in an old boat but I've never walked it. And after the fanfare of the coast path's launch and those back slapping accolades of Wales being the first country in the world that you could walk around, I thought, I should give it a go.
It's not often that Wales can claim a world first but we can now say that this is the first country in the world that allows you to walk around its entirety in one unbroken path, (ok you have to count in Offa's Dyke), but it's an achievement to be proud of.
These days the Welsh coast is somewhere to relax and find peace and quiet, it's the farthest-away-bit in a country that is the back of beyond, but it wasn't always so. A walk along our coast, its ports and harbours, is a telling reminder of a country that once made its fortune from the sea, a country that was outward looking and international in its aspirations. The sea captains who owned the big houses overlooking the water in Chepstow, Milford and Porthmadog were as familiar with the New World as they were with Wales; they (and their crews) were well-travelled people.
The coast was once Wales' super-highway, our broadband connection to the world. If you had stood on the cliffs anywhere along the Welsh coast two hundred years ago, you would have seen a sea clogged with vessels going about their business, shipping goods and passengers near and far. This waterway was once our beating heart - not the quiet haven that it is for the most part today.
The Wales Coast Path is more than a brilliant idea to keep the hale and hearty among us fit and healthy. Walking is big business for Wales. Every visitor who comes here to stretch their legs on Gower or in Pembrokeshire spends a small fortune on bed and breakfast, pub lunches and evening meals. And if they have had a good time, they tell their friends and hopefully come back another time. In a country that will never guarantee sunshine - getting tourists to come and walk through our truly spectacular world-class scenery has to be a good idea.
Even if it's early days to quantify the economic benefits of the coast path - the health benefits of walking are surely beyond debate. We've always been walkers in my family but we've always been short walkers - a walk on the beach on a Sunday - we've never been 'grab your rucksack and boots for the day' walkers. It's only in the last few years, conscious of the need to get exercise in a sedentary job sitting in the newsroom all day, that I've taken to it with relish. In a country fast catching up with American levels of obesity - perhaps it's time to start writing walking prescriptions at the Doctor's surgery. As someone who has spent too much on unused gym memberships over the years, walking is my preferred exercise and after a journey like this you'd never pay for the privilege to sweat inside a building again.
Being in the great outdoors is good for your mental health too. Suddenly all the things that do your head in: trouble at work – that exploding washing machine - or your incontinent dog - no longer matter when you're walking the edge of Wales with the ocean your constant companion.
The other thing that has struck me is just how quiet the coast path is - or perhaps I should say, how noisy urban life is. No burglar or car alarms here, police sirens, mobile phones - none of it - and I feel so much better for escaping the cacophony of the din of the office and life in a city, even if only for a short while.
When did living in Wales become so loud with other people's noise? If you fancy escaping it all then this is the place to come.
But don't think for a moment that this is a walk through a quiet empty paradise devoid of human contact - it isn't. You just never know what you'll find round the next corner of the coast path. Relatives scattering loved one's ashes on the cliffs, military tanks firing out to sea and couples in the throes of passion, you'll discover that all human life is here.
The Wales Coast Path is a slight misnomer - the herculean task of driving a public footpath through eight hundred and seventy miles private land, farms, military ranges and all manner of other obstacles is still a work in progress. Sometimes your journey will detour around roads further inland, through housing estates and industrial parks, but the experience is richer for that. Besides I'm a nosy blighter and enjoy nothing more than meander through places where I'd ordinarily never see.
The other great joy of this whole experience is that leaving the car behind and walking allows you to talk to complete strangers in the middle of nowhere. Dog walkers, hikers and holiday makers, blackberry pickers, birdwatchers and seal spotters all have the time of day to stop and chat in a way that never happens in cities or towns. And what's more, they empty their hearts out trusting all in a fellow traveller!
The news of our coast path has spread far and wide. I lost count of the number of Chinese students, Belgian cyclists and Mancunian birdwatchers I met who have discovered our newest national asset. On my travels, visitors from outside Wales far outnumbered the locals exploring the coast path by a wide margin.
The Wales Coast Path is helpfully split into eight sectors and I've followed that demarcation on my walks. Each of my eight radio documentaries follows one of the eight sectors of the coast path. My journey begins on Gower on Worm's Head. I've walked from the car park onto that famous landmark dozens of time, but this is the first time I've carried on walking along that spectacular stretch of coast.
Worm's head to Port Eynon; a short ramble on an autumn day, ordinarily you'd walk it in two or three hours - but stopping to talk to everyman and his dog it was an enjoyable full day. Gower is such an area of contrasts - urban Swansea busy in the distance, miles of glorious beaches - empty at this time of year except for the hardy, ten nature reserves, twenty-four Wildlife Trust reserves, thirty-two Sites of Special Scientific Interest and five Special Areas of Conservation. This little country certainly knows how to pack a great deal into a small space.
Don't ask me to choose a favourite part of the coast - I thought I'd automatically choose the Pembrokeshire stretch, my home turf, which I dearly love, but Criccieth to Portmeirion and the Menai Strait also take some beating. And I'd never explored Chepstow to the Severn Crossing 'til now.
I'm trying to define what it is that makes the coast path so mesmerizing and so addictive. Yes, it's unique - the first in the world, and yes it's scenery is difficult to surpass anywhere on earth. But it is something else too.
And I think it is this: in an era of economic austerity, of uncertainty and a world short on good news, we have rediscovered the simple pleasure of walking with friends, the joy of the great outdoors and all of it to be found free of charge and close to home.
In a country often accused of introspection, this is a grand stage to walk tall along the edge of Wales, to look out rather than inwards and to be inspired once again by the sea and its wide horizons. Life doesn't get much better than that.
Jamie Owen, October 2012