Main content
The Longest Ever Danceathon with Claudia and Tess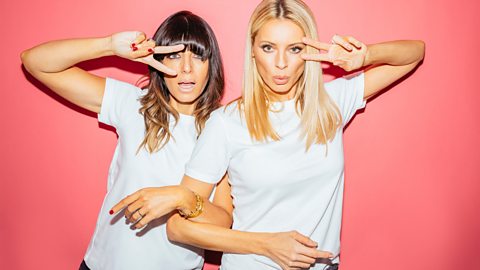 The Strictly duo will be dancing at Radio 2 for over 24 hours for Comic Relief.
BBC Radio 2's Claudia Winkleman and her Strictly Come Dancing co-presenter Tess Daly have pledged to practice what they preach and 'Keep Dancing' in an epic challenge that will see them floss, dab and salsa to the beat for the longest ever Danceathon challenge in Red Nose Day history.
Starting on Monday 11 March, through to Tuesday 12 March, the stars will put their dancing skills to the test as Radio 2 turns into a giant jukebox, playing the very best floor fillers from the the present day, all the way back to the 1960s.
The dancing marathon will push the duo to their limits, both physically and mentally, as they swap the side lines of the dancefloor for centre stage and dance non-stop for over 24-hours, all to raise vital cash for Red Nose Day to help Comic Relief improve countless lives both here in the UK and internationally.
Their every step, turn, and twirl will take place at the Radio 2 studios in Wogan House, and will be followed across all Radio 2 shows. It will also be streamed live on the BBC Red Button and BBC iPlayer.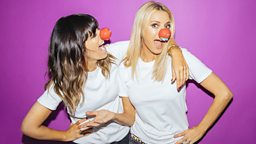 Claudia Winkleman says "I'm so excited to be taking on this epic Danceathon challenge with Tess live at Radio 2 in the legendary Wogan House. I know it's going to be hilarious to watch because we're pretty bad dancers - I'm not very good at standing, let alone dancing! Thankfully we'll have each other and we're going to push through to raise as much money as we can for Red Nose Day."
Tess Daly adds: "I am so proud to be supporting Red Nose Day with Claudia, however I'm not sure what either of us were thinking when we agreed to the longest ever Danceathon challenge! We were worn out during our first choreography session so it's no doubt going to be a tough challenge. But, we're doing this to raise money for Red Nose Day so it will be incredibly special and we'll be thinking of all the people that will benefit from all the amazing projects funded by Comic Relief."
The Longest Ever Danceathon with Claudia and Tess follows Sara Cox's triumphant 24-hour Radio 2 Sounds of the 80s' Danceathon in 2017 - relive highlights of Sara's Danceathon here.