Main content
Thinking About Writing and Writing About Thinking
Jonathan Bryan is an extraordinary 500 Words writer who uses his eyes to select letters on an alphabet board to make words. He uses this system for all of his communication. Here are his thoughts on story-writing and its importance.
Stories have been the beating resonance in my life. Immersing myself in the adventure of new tales, I have inhabited the scenes of author's pictures and woven them with my imagination. During my years of silence, books nourished my mind and prevented mental decay – being read to was a highlight of my day.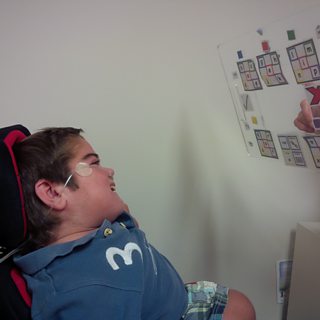 Inspirational 500 Words writer, Jonathan Bryan
For me, writing is an organic synergy between my inner being and my eyes
How do you think? Whilst at special school I learnt to amuse myself with my thoughts, plunging into inner landscapes of colours, emotions and drumbeats. As my outer world started to include 'speech', I actively chose not to be restricted by an internal monologue made up of words, but to continue travelling the rich texture of my imagination.
For me, writing is an organic synergy between my inner being and my eyes - which slowly write by looking at coloured squares of letters, meticulously typing each word. Planning often involves words and phrases, gleaned from books I've heard or read, attempting to describe inner journeys. Journeys often not wanting to be yoked by words; so my challenge is to capture delicately the image and bequeath it words that let it breathe. Like a bird let out of its cage, the picture is free to fly in the reader's mind and assume a new life of its own.
Tragically there are many children like me who are not taught to read or write; listening to stories aimed at much younger children, stifling the mind in boredom. Their tales are yet untold. They deserve to be heard.
What stories will your thoughts unlock?
Inspired by Jonathan's story? You can read more of his writing on his blog.
More from 500 Words
Honorary 500 Words Judge HRH The Duchess of Cornwall appears in our special animation.

Everything you need to know about Radio 2's short story-writing competition for kids.