Main content
Cake and a Cuppa
Help BBC Radio York host our biggest ever Cake and a Cuppa event this Yorkshire Day.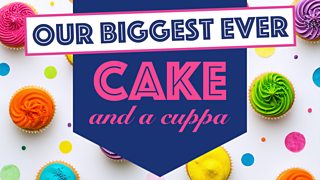 What is Cake and a Cuppa?
After hearing so much about the effects of loneliness and isolation in North Yorkshire, BBC Radio York knew we had to stop talking about it and do something about it. That's when Cake and a Cuppa was born.
We've been holding events in different locations every month this year. Now we've decided to step it up a notch and ask you to help us host as many as possible with your help.
Join in
Host your own event on Yorkshire Day, Wednesday 1 August.
Your event can take place anywhere that you can eat cake, drink tea, and have a good natter. Some examples could be in your community centre, your church, your staff room, even your garden shed.
Click here to find out about events going on in your area.
Download the posters below to make your event look amazing.