Main content
Young Brass Award 2015
The Final
The Young Brass Award Final was broadcast live from the Royal Northern College of Music on Friday 27 March 2015. Presented by Ken Bruce and Listen to the Band's Frank Renton, who also conducted all the music, the four young players performed up to 10 minutes of music of their own choice accompanied by the world famous Grimethorpe Colliery Band.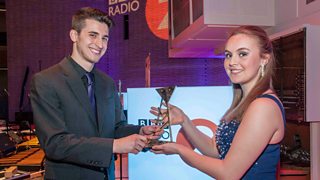 Young Brass Award 2015 winner Grant Jameson receiving his trophy from the 2014 winner, Matilda Lloyd
As the judges made their decision, Grimethorpe gave a concert of the brilliant music of John Williams including his theme for 'Born on the 4th of July' which featured the 2014 winner Matilda Lloyd trumpet.
The judges announced the winner - Grant Jameson, who took to the stage to play again. On winning the covetted award, Grant said, "It feels amazing to win the award the second time around and great to play with such a prestigious ensemble. I really think this is going to help launch my career as a soloist."
The night ended with an exciting arrangement of Bach's famous Toccata.
The judges for the Final were:
John Wallace
John is one of the worlds great trumpet virtuosos and by leading his own group, The Wallace Collection has been responsible for creating much new and popular music. From 2002-2014 John was Principal of the Royal Conservatoire of Scotland guiding it through many successful and innovative years. His experience of players at the age of entry to the Award in unrivalled.
Stephen Roberts
Stephen was one of the founders of the Fine Arts brass quintet and played with all the top orchestras. He's been concentrating on composition and adjudication more in recent years with his piece Arabian Nights testing all the bands at the recent National Brass Band Championships in the Royal Albert Hall
Steve Sidwell
Steve is a Grammy winning composer and arranger who works with the biggest stars including Robbie Willimas, Annie Lennox and Eric Clapton, he scored the west end hit We will Rock you and was music director on BBC TV's TheVoice and arranger on a multi award winning album by Robbie Williams He also arranged the whole of the recent Friday Night is Disco Night on Radio 2. Naturally he's also an accomplished trumpet player
The four Radio 2 Young Brass Award 2015 finalist were:
Grant Jameson– Euphonium - Age 20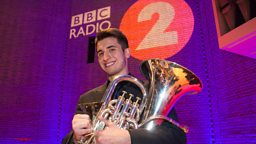 Paganini's Carnival of Venice arranged by Arban /Catherall & Genesis by Joshua Jameson
David Gillson - Cornet - Age 21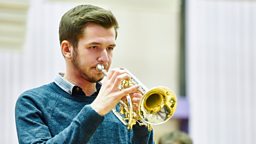 'Song' from Milestone by Peter Meechan & 3rd Movement Trumpet Concerto by Elgar Howarth
Adam Bokaris – Euphonium - Age 20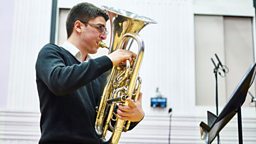 Harry's Song 2nd mvt of 'Origins' Concerto by Peter Meechan & Dick Tracy from The House of Shadows by Richard Rock.
Ben Goldscheider - French Horn - Age 16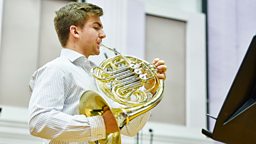 Horn Concertino by Weber arr Michael Kenyon
Listen to a clip of Young Brass Award 2014 winner Matilda Lloyd
Every Thursday on BBC Radio 2, 11:30pm to midnight, Frank Renton showcases the best in brass and military band music.

Every Sunday on BBC Radio 2, 9-11pm, Clare Teal presents the best in big band sounds - old and new.

BBC Introducing brings together all of the BBC's supporters of undiscovered and unsigned music. If you're making music, upload your best tracks and get your music heard by the BBC.