Main content
Watch the Live Lessons EXTRA programme
Terrific Scientific Forces - Live Lessons EXTRA
This Live Lessons EXTRA is a follow-up programme to the Terrific Scientific Forces - Live Lesson and continues with the theme of forces that affect speed. The lesson explores the force of friction, examines the difference between mass and weight and looks at how friction can be reduced.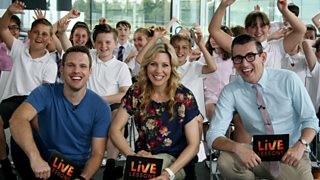 This lesson is aimed at 9-11 year olds:
Year 5 and Year 6 pupils in England and Wales
Primary 5, Primary 6 and Primary 7 pupils in Scotland
P6 and P7 pupils in Northern Ireland
Lesson guide
A full lesson guide for teachers and downloadable activity sheets are available below.
For more information about all the investigations taking place in this UK wide primary science initiative, go to the Terrific Scientific website.
Get ready for Live Lessons EXTRA
Find out more about the lesson content and what you'll need to prepare with our handy lesson guide.

An activity sheet to help students through an investigation of how weight and mass affect movement.

An activity sheet to quiz students on their knowledge of friction and the effects of lubrication.