Main content
'I was there': Bob Marley's death, 1981
5 live Daily looks back at an historic moment through the eyes of those who were there.
Bob Marley: Reggae's first superstar
On 11th May 1981 the legendary reggae singer died of cancer in Miami, aged 36. He had been receiving treatment in Germany before he died. The musician is one of the most recognised and celebrated artists of all time with hits including "One Love", "No Woman No Cry" and "Redemption Song". "Buffalo Soldier" was the singer's biggest hit in the UK and reached number 4 in May, 1983.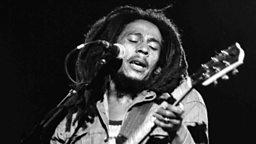 Bob Marley performs in 1980 in front of an audience of 40,000 during a concert in Paris
Living next door to Bob
Jamaica is the birthplace of reggae music and Bob Marley was one of its greatest exponents. Inansi Burke lives in Kingston, Jamaica and was a friend and neighbour of the singer.
"Bob just drew people in magnetically"

Neighbour, Inansi Burke
She knew him before he was a star.
"He [Bob] was an amazing person and was different than others, he had a little bit of everything", she said.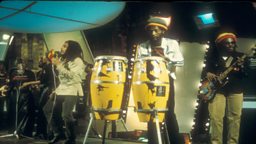 Top of the Pops : 1970s : Bob Marley and the Wailers
Capturing an icon
The photographer Dennis Morris first met Bob Marley in 1974 whilst bunking off school and waiting for the singer to arrive for a soundcheck at the Speak Easy Club in London. Marley, quite taken with the young teenager, invited Dennis to come along and take pictures on the remainder of the tour.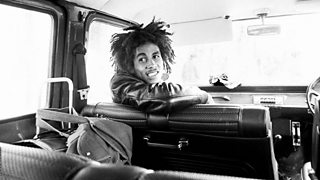 "He was an amazing man and became a Mentor to me"

Photographer, Dennis Morris
Dennis saw the musician about a month before his died.
"I knew something was wrong because he wasn't the same Bob that I'd known from earlier and he was very quiet. He started playing a song and later I realised it was Redemption Song and I was one of the first people to hear it", he said.
Bob's Legacy
Bob Marley was posthumously inducted into the Rock and Roll Hall of Fame in 1994. His 1977 album "Exodus" was named Album of the Century by Time Magazine and his song "One Love" was designated Song of the Millennium by the BBC.
"Bob is the biggest music star in the world"

Biographer, Chris Salewicz
Chris Salewicz wrote Bob Marley's biography 'The Untold Story' and spent three weeks with him in Jamaica in 1979. Chris said that Bob Marley is still a huge star across the globe, "If you go to some little bush hamlet in Africa then you'll see a ten foot high mural of him".
Since its release in 1984, Marley's "Legend" compilation has annually sold over 250,000 copies and is one of the biggest selling albums of all time.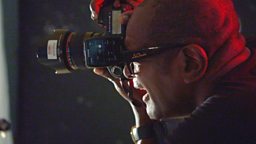 Photographs by Dennis Morris of Bob Marley and The Wailers became famous the world over, appearing on the cover of Time Out and Melody Maker before Dennis had even turned 17.
Marley's funeral was a day of history for Jamaica
Ten days after his death, Bob Marley was buried in Jamaica. Hundreds of thousands of people had turned out to pay their respects and the country's budget had to be delayed because so many politicians wanted to pay their respects to the singer.
Richard Williams is a former head of artists and repertoire at Island Records, the label which signed Bob Marley, and went to his funeral. He said the funeral was incredible, "It was very lively, being at the funeral was like being at a concert and his mother, wife and children sang".
Bob Marley is buried at Nine Mile, the village where, 36 years earlier, he had been born.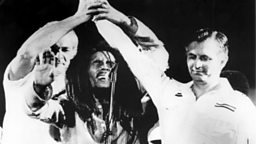 Bob Marley performs at the One Love concert for peace in Jamaica with former Prime Minister of Jamaica, Michael Manley(l) and Edward Seager (r)
If you have a few more minutes...