Main content
5 amazing ways to stop your Halloween pumpkin going to waste
Each year, 15 million pumpkins – equivalent to 18,000 tonnes – are binned in Britain, which is enough to make everyone in the country a bowl of pumpkin soup.
Such levels of waste have led campaigners to launch #pumpkinrescue in a bid to make pumpkin buyers aware of how you can put your pumpkin to best use once it has served it's Halloween purpose.
Students at Abertay University in Dundee spoke to Mornings with Kaye Adams about their novel recipe that will utilise the neglected Halloween decoration – pumpkin ice cream!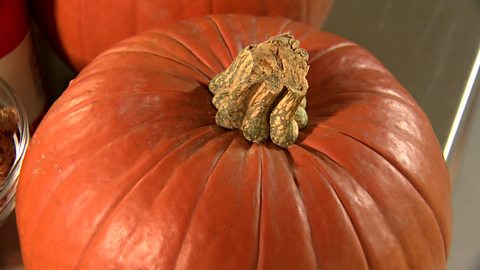 #pumpkinrescue aims to save the 15 million pumpkins Britain bins each year
Dr John Wilkin – a lecturer in food product development – said the students' recipe uses lots of the parts of the pumpkin as the 'gunk' in the middle is separated from the seeds and used as the base ingredient for the ice cream.
The Scottish Food Guide's Wendy Barrie also offered her own idea of roasting and salting pumpkin – as well as sunflower – seeds to make an alternative to popcorn that can be feasted upon on whilst watching Halloween horror films.
Wendy also mentioned that the flesh of pumpkins can be used in soups and curries, with the inclusion of spices and chilli giving masses of flavour:
"There wouldn't be one speck of pumpkin left, there's absolutely no excuse for any waste."
So what are some of the other uses you can put your post-Halloween pumpkin to?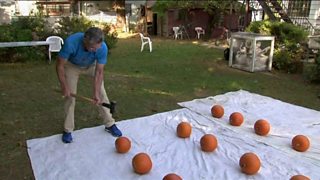 Use your pumpkins to smash some records
As well as giving the name to one of the best alt-rock bands of all time, smashing pumpkins is a pastime that could get you in the world record books!

The current record is held by Ronald Sarchian from the United States, who smashed a staggering 48 pumpkins in one minute in Washington state on 5 October 2018.

Unless you are part of a huge family who will carve 49 pumpkins this Halloween, then this might not be easily achievable.

Watch another pumpkin smashing record attempt here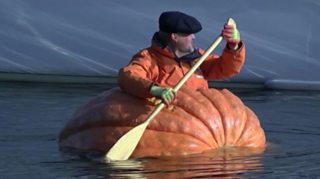 Use your pumpkin as a boat
Giving James and his giant peach a run for its money, Tom Pearcy paddled down the River Ouse in a giant pumpkin boat.

Tom claimed it is a world record for the largest pumpkin boat due to it weighing 619kg (1364lbs). But since there was no recognised world record for the largest pumpkin boat in 2018 when the sailing took place, Tom's workplace of York Maze have applied to Guinness World Records to have this achievement recognised.

Watch Tom sail along the River Ouse in a giant pumpkin
Make a super soup
Pumpkin ice-cream may not be everyone's taste, so why not do your tastebuds a favour and use the fleshy parts of your pumpkin to make a delicious autumnal soup.
Adding spices, stock and coconut milk to roasted pumpkin flesh makes a simple, colourful and ultimately yummy autumn soup.
BBC Food has a range of recipes available that will turn your leftover Halloween pumpkin into the base for a glut of delicious meals.
Bring your pumpkins to life
Latest features from BBC Scotland