Main content
Want to read more books? Ten tips to help you turn over a new leaf
28 December 2017
Reading can awaken our imagination, transport us to new worlds, inspire and challenge us - not just as children but throughout our lives. But with all of life's distractions, it can be hard to make time to read. ELLIE KENT has some tips to help you become a permanent page-turner.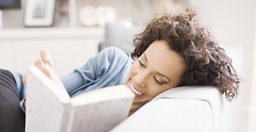 1. Never be without a book
Make sure that you always have a book to hand wherever you are. It'll make it easier to squeeze in some reading whenever you have a spare few minutes whether that's on the train, the bus, or waiting at the dentist.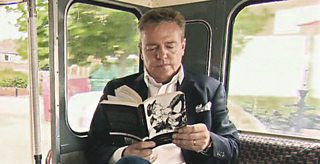 In the middle of our street - Madness singer Suggs enjoys a read on a bus
No matter how busy your schedule, try to squeeze in a spare few minutes in your day to read - it could even be while you're on the loo! Leaving the house and no room in your bag? You don't need to carry around a hard cover; you can download a book onto your smartphone or reading device. Picking up a book can be so much more rewarding than checking your social media newsfeed.
2. Get into a regular habit
Make reading part of your daily routine by scheduling a regular time each morning or evening to dive under the covers. Creating a routine each day will soon make reading become a habit.
A great technique if you are short on time is to read in sprints. All you have to do is set a timer and read until time is up. This is also a really great tip if your mind tends to wander while you are reading, as it will help keep you focused.
3. Prepare your reading list in advance
Great Expectations? The Great Gatsby? Small Great Things? Always have a mental or physical list of books you want to read - whether it's a classic or a new release. Once you come to the end of a novel, don't let not having your next title lined up be the thing that holds you back and gets you out of your habit. Make sure that you have a trusted referral source that can recommend you books so that your list is fresh and you're always excited for the next book. (#LoveToRead's not a bad place to start for great recommendations!)
4. Listen to audiobooks
Audiobooks are a good way to familiarise yourself with storytelling because it allows you to multitask. Swap your monthly music playlist for a good story. You can listen anywhere at any time: in the car, at the gym, cleaning the house or out for a run. BBC Radio 4's Book at Bedtime and Book of the Week have a constantly changing list of titles on offer - and are available for free on the BBC Radio Player site and app or the R4's website.
Of course, listening to an audiobook is not reading but it can help you get back into the habit of following a story. Why not try a book series by listening to the first title as an audiobook and then shifting to a physical book for the follow-up.
5. Join a book club
Make reading social. Joining a book club is a great way to get reading, meet new people, hear recommendations and generally get into more contact with books. Who doesn't enjoy discussing their favourite TV shows? Book clubs are just the same. Discuss with others what your enjoyed about the novel or how you couldn't stand the suspense. It will encourage you to read things that you wouldn't normally and you never know, you may find a genre that you love but had always dismissed.
A book club is also a great way of getting more out of a title. Hearing other people's interpretations - whether you agree with them or not - will help you think more about your own reading and is useful for setting yourself a target for finishing that title before the next meet.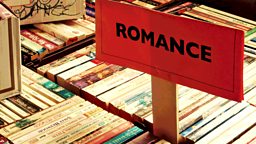 6. Don't be afraid to give up on books you're not enjoying
Don't feel obliged to finish a book just because you started it. Reading can feel like a chore if you're just trying to get to the end of the story for the sake of it. Don't feel guilty for leaving a book unfinished if you're not enjoying it. Move on to the next book on your list. You never know, you may want to return to a forgotten book at another time. But don't feel obliged to complete everything you've started. The more enjoyable your read the quicker you'll get through it.
7. Make your environment more reading friendly
It can be hard to concentrate on your book with the TV blaring in the background. Make your reading environment free from distractions. In the warmer months take your book outside and get some fresh air while you read. In the winter read before bed to aid a better night sleep.
It isn't always possible to remove yourself from a noisy environment especially if you're squeezing your reading time into hectic family life. Try blocking out distractions in your surroundings by listening to non-lyrical music to focus your mind.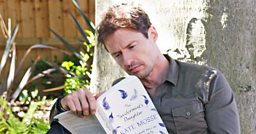 8. Give yourself a target
Deadlines can be the worst, but when you set a realistic target for yourself it will be rewarding when you reach it. If you have a busy schedule, set yourself a deadline to complete a book and it will reduce time spent procrastinating. Work out your average reading speed and set a realistic goal number of pages to read each day or week. If this is too stringent, instead set yourself a target number of books to read in a month or year. Working to a target will keep your reading on track. When you meet your target don't forget to reward yourself (maybe with a new book)!
9. Put the book down when it gets good
Are you the type of person who hates a cliff-hanger at the end of a TV programme? They are a sure-fire way to guarantee viewers return for the next installment. Treat your book in the same way and put it down when you're hooked. This will leave you waiting for the next opportunity to continue reading because you can't wait to find out what happens next.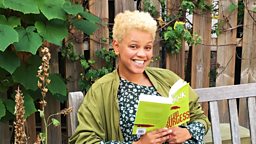 BBC Radio 1's Gemma Cairney reading Melvin Burgess' Junk
10. Choose topics that you know you'll enjoy
If you're not a regular reader, starting with War and Peace could be off-putting. Choose topics that interest you already: if you enjoy a spy thriller film, try James Patterson. If history is your thing then pick up a Hilary Mantel book. Choose topics that have engrossed you before or themes from films that you love.
Once you find an author whose work you enjoy, read their whole canon. It could be Dickens or David Walliams, but it's fun to choose one author and work through their collection. This is also a great way to add titles to your reading list.
If you've got more suggestions to help other aspiring readers let us know on social media using #LoveToRead. But most of all - happy reading!