Main content
Order your thank you certificate
On behalf of everyone at BBC Children in Need, thank you.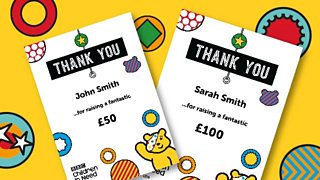 By doing your thing you've helped us raise a record-breaking amount of money; vital funds that we can put to work supporting disadvantaged children and young people all across the UK.
To acknowledge your fantastic efforts, we'd be delighted to award you with a thank you certificate. To get yours, please fill in this request form.
We use a carefully selected supplier called SmartSurvey Ltd to collect the information we need to produce your thank you certificate. The information provided will be held in the UK. For more information on how we use your data, please read our Privacy Policy.
While we normally aim to get thank you certificates sent out to our amazing supporters within 2 weeks of the request being logged, I'm afraid it can take quite a lot longer than this around the time of the Appeal.
This can be between 4-6 weeks. This is because, as I'm sure you can imagine, we are absolutely inundated with requests for certificates at this time of year. Please rest assured that we are working as quickly as we can.
In the meantime, we would love to keep in touch with details about how the money you raised is being put to use. Please click here to subscribe to our newsletter via the sign up box at the bottom of the page.