Main content
Blade Runner: Sounds of the Future Past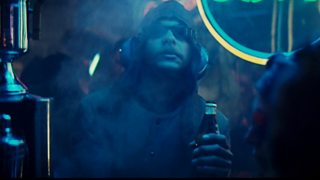 The iconic status of Ridley Scott's 1982 science fiction film Blade Runner was achieved not just through storyline, casting, visual design and directorial flair, but also through the soundtrack of its dystopian world – especially the music.
For BBC Radio 3's The Essay, Electronica expert Frances Morgan pierces the sound barrier of a film that defined the future not only in the way it looked, but in the ways, back then, that we heard tomorrow...
When I think about Blade Runner, the first thing I think of is the film's sonic environment. The main character, the blade runner Rick Deckard, moves through the city, from its murky streets up to its corporate penthouses, against a constant backdrop of hissing rain, distant explosions, synthesized voices from billboard-sized screens, bleeping machines, hybrid pop music, multilingual chatter and the buzz of neon. Music ebbs and flows around him: deep drones swelling into gauzy synthetic strings. His apartment pulses with a low hum. Blade Runner is suffused, saturated with sound.
Sentimental piano melodies waver and flicker, as if conjured from a distant past: it's like we're remembering them as we hear them. But then, as we know, the memories of the Nexus-6 replicants whom Deckard is hired to kill are fake, implanted by the company that built them. Like the replicant Rachael, we start to wonder: do we really remember that tune from somewhere?
In 1975 the Greek composer Vangelis set up a studio in central London, near Marble Arch. Nemo Studios was also a world unto itself. Photographs from the late 70s and early 80s show a treasure trove of synthesizers, effects units, tape recorders and more, set up in close proximity to allow the composer to move between playing, recording, overdubbing and editing. For Vangelis, composing was not about writing notes on a page, but about improvising and reworking a piece until all its elements felt right.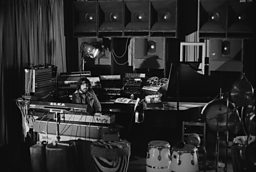 Composer Vangelis surrounded by percussion instruments, synthesizers and recording equipment. Photo: © Getty Images
For Vangelis, it was important that the studio felt as much like an instrument as his grand piano, or indeed the synthesizer that's become synonymous with Blade Runner's soundtrack, the Yamaha CS-80. A rare example of an analogue polyphonic synthesizer, which allows you to play up to eight notes at once, the CS-80 gave the player unprecedented expressive freedom, with weighted, touch-sensitive keys.
The music was the final element to be put in place. Vangelis took a much more hands-on approach, improvising and recording along to footage sent to him by Ridley Scott and editor Terry Rawlings on a daily basis, which he watched on a video monitor in the studio. As the film was edited, Vangelis would refine and sometime re-compose his cues. The result was an almost symbiotic relationship between sound and picture that creates a synaesthesia-like effect for the viewer.
The way that Blade Runner's soundtrack exploits electronic sound's illustrative and musical possibilities, often within the same sequence, goes beyond special effects, nodding to classics like Louis and Bebe Barron's 1951 soundtrack for The Day The Earth Stood Still but also prefiguring more recent science fiction cinema where the boundaries between music and sound design are skilfully blurred: think of Denis de Villeneuve's Arrival and indeed his 2017 reboot of Blade Runner, set in an even more dystopian 2049.

The Yamaha CS-80, an innovative synthesizer used by Vangelis in Blade Runner: "Giving the player unprecedented expressive freedom, with weighted, touch-sensitive keys". Photo courtesy Yamaha Corp.
Listen out for the harp melody in a scene of cyclists pedalling through the rain – it's not one of Vangelis's electronic glissandi but Gail Laughton, an American jazz harpist, from his album Harps Of the Ancient Temples, made in 1978 – a 20th century reimagining of what harp music of the past might have sounded like.
Vangelis's music – an almost symbiotic relationship between sound and picture that creates a synaesthesia-like effect for the viewer.
This was the era of Fourth World music – the phrase coined by trumpeter Jon Hassell for the combination of electronic sounds with traditional African and Indian instruments that he used on albums like Possible Worlds, a collaboration with Brian Eno, in 1980. But while Hassell and Eno created dreamy, often blissful meditations, the Blade Runner soundtrack is tinged with anxiety – a simmering fear of the other that's mirrored in the orientalist clichés that visually define the city's sketchy "third" and "fourth" sectors.
Notice how Vangelis uses exotic musical tropes to signal intrigue, decadence and danger, as when Deckard goes in search of the replicant Zhora at the Snake Bar, and we hear a seductive, ambiguously gendered voice – in fact it's the Greek singer Demis Roussos – singing a sinuous pentatonic melody in deconstructed Arabic, over a menacing synth drone.
I've always loved the way that Blade Runner, a film so bleakly, so violently obsessed with the real and the fake, lends itself so well to creative strategies of sampling, looping, hacking and copying. After all, it is itself a masterclass in appropriation and layering, from the doo-wop pastiche "One More Kiss, Dear", created by Vangelis and session singer Don Percival as a replacement for The Ink Spots' "If I Didn't Care", to the famous hum in Deckard's apartment, borrowed from Star Wars.
It's perhaps not surprising that Blade Runner's music and dialogue became a go-to source of samples for the UK's drum 'n' bass and rave producers in the 1990s, with fragmented and reassembled in classic singles such as Dilinja's "The Angels Fell". You can hear how Blade Runner's imagined cityscape resonated with musicians in real cities – London, Bristol, Manchester – for whom this dystopian fantasy could be recuperated into vital new music. In 2008, Zomby's album Where Were U In '92 samples Roy Batty's dying speech in homage not only to Blade Runner but also to the club music on which the film was such a key influence.
Meanwhile in Detroit – that paradigmatic post-industrial city – techno producer Kenny Larkin fires up Deckard's Dream, a neat black box with familiar looking red, white, green and yellow faders. Recently released by a Japanese company called the Black Corporation, Deckard's Dream is a new synthesizer that, while less than half the size of the Yamaha CS-80, reproduces its signature sounds and action with loving fidelity. This is a high-end replicant, a Nexus-6 job. Who needs the real thing?
Frances Morgan is a writer based in London. She writes about music, film and sound for The Wire, Sight & Sound and others, and is currently researching histories of electronic music at the Royal College of Art and the Science Museum.

The Essay: 2019 – The Year of Blade Runner
Los Angeles, November 2019. Blade Runner's future is now ours. Ridley Scott's 1982 classic future film of replicants escaping to a retrofitted Earth and meeting their end at the hands of the washed out, titular Blade Runner, Harrison Ford as Rick Deckard, is adapted from Philip K. Dick's equally classic 1968 novel Do Androids Dream of Electric Sheep?.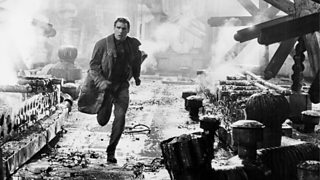 Both film and book are meditations on what it is to be human but we have been looking through the eyes of the film ever since it plunged us into its acid rain, neon coated, West Coast nightmare of flaming night skies, commercial ziggurats, flying cars and fake animals.
Now its future is our present. We live in a world of mass species die-off, environmental crisis, rapidly developing AI, all-powerful corporations and extreme divides between rich and poor. It's just that neon umbrellas never caught on and flying cars are still a luxury.
Film and book have bled into our culture in many different ways. In this series of The Essay, 2019 – The Year of Blade Runner, we mark the year of Blade Runner, in the month of Blade Runner. Five writers explore what it is to be human or a machine, the sonic reaches of the film, the contradictions of sex robots, and the cinematic legacy.