Main content
Auto-renewing your motor insurance
Running a car can be expensive, and one unavoidable cost is your motor insurance. In fact, research shows that one in five drivers may be paying too much for their cover. One reason for this can be that some people end up renewing their insurance year after year with the same company.
We brought together a group of drivers, many of whom had discovered this renewal trick used by some insurance companies. Staying with the same insurance company might seem like the easiest thing to do but this can sometimes mean you pay more each year than you would if you shopped around. Not only this, but some companies automatically renew your insurance meaning that unless you notice it, the company will debit the new auto-renewal price straight from your account. This auto-renewal price might be much higher than you could get as a new customer.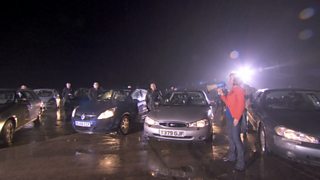 Charles Willoughby is one driver we spoke to. He insured his car with Admiral. They tried to auto-renew his policy for £940, a reduction on the year before, but after searching as a new customer he found a cheaper quote online for £300 less. The company offering this was in fact his own insurer, Admiral. They agreed to match this new price after he called and complained.
Some of our drivers also discovered that car insurance companies aren't alone in using the auto-renewal trick: some companies providing breakdown cover do it as well. One driver got a cheaper quote online from the same company after his breakdown cover was auto-renewed at a higher price. When he approached the company with the quote, they were happy to match it, saving him £58.
In fact, it seems like insurance companies are making a lot of money through auto-renewals. One online comparison site believes we are wasting £2billion each year by simply letting our policies auto-renew.
Company responses

The Association of British Insurers told us: Automatic renewal is designed to help ensure that customers do not inadvertently break the law by driving without insurance because they overlooked to renew their motor insurance. Motor insurance is a legal requirement so motorists must at all times ensure that they are insured.
Insurers typically issue renewal notices 21-30 days before renewal date to enable the customer to have ample time to decide if they wish to stay with their current insurer or shop around. Where auto renewal applies it will be clearly indicated on renewal documentation so that the customer is aware that if they do nothing then the policy will be automatically renewed at the premium quoted.
Admiral told us: The premium we charge each customer is calculated from a series of detailed statistical models which look at the past claims experience for similar customers. The differences in premium we charge for different levels of any rating factor are a true reflection of the risk we take on as an insurance company.
The process of setting a price is carried out independently between our new business customers and our existing customers and this can mean these two different groups of customers receive different rates based on their circumstances. As a result sometimes the rates for existing customers renewing their policy can be lower than rates for new customers and sometimes they can be higher. It would not be in our interests to charge customers more than we felt necessary, as we would lose potential business.
In Mr Willoughby's case, his initial new business premium in 2011 was £783.79, but soon after the purchasing his insurance he changed his vehicle which meant an additional premium taking his premium up to £1,062.92. He then received his renewal notice in 2012 which was £945.79, lower than he had been paying in the previous year.
Mr Willoughby notes that the policy was going to auto-renew, which he did not appreciate and I want to highlight why we, along with most other insurers, automatically renew our customers' policies unless they tell us they do not want to.
Motor insurance is a legal requirement and auto renewal protects our customers. It ensures there is no inadvertent break in cover, if for any reason they are unaware of when their insurance runs out. We send out renewal documents before the renewal date to give our customers time to 'shop around' and contact us to cancel if we are not competitive.
This has become increasingly important following the legislative changes brought in by the DVLA. Under the Continuous Insurance Enforcement (CIE) rules, it is a legal requirement for motorists to insure their vehicle at all times unless it is declared as 'off road' with a Statutory Off Road Notification (SORN) with the DVLA. If there is no record on the Motor Insurance Database (MID) showing a vehicle is insured, and a customer has not declared it SORN, they will receive a warning letter that they could face a fine, or prosecution. In some circumstances the vehicle could be clamped, seized and ultimately, destroyed.
With this in mind, automatic renewal is even more important to our customers, as continuous cover means they are not in danger of inadvertently driving uninsured, or falling foul of the CIE legislation.
We detail the automatic renewal procedure in several places, making it clear and transparent to our customers and we feel it is of benefit considering the current legislation mentioned above. Information is included in the Welcome Pack which they receive when they accept insurance with us, in the Renewal pack sent around a month before renewal is due, in our policy booklet and privacy and security statement.
As Mr Willoughby points out, he was able to find an Admiral new business price which we matched at £637.01. I hope that my explanation above makes it clear how he could have received such a difference in price between his renewal quote and the new business price, but on contacting us, we matched the new business price and he continued to insure with us.
We always aim to be as competitive as possible for both potential and existing customers, however, will not always be the cheapest. Hence, we send out our renewal documents around a month before the policy is due to renew in order to give customers the chance to review our price.