Main content
Murder On The Orient Express - This Week At The Movies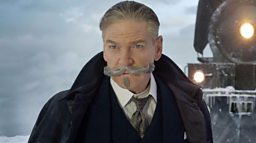 Murder On The Orient Express ⭐️ ⭐️
A journey on the famous Orient Express comes to a halt after an avalanche knocks the train off its tracks – and a body is discovered in the first class carriage. Everyone's a suspect when Detective Hercule Poirot (director/star Kenneth Branagh) interrogates the passengers to solve the mystery before the killer can strike again in this big-budget adaptation of Agatha Christie's classic novel.
Pros:
The cast. Just look at it: Penélope Cruz, Willem Dafoe, Judi Dench, Johnny Depp, Josh Gad, Michelle Pfeiffer, Daisy Ridley… the list goes on. Kenneth Branagh has assembled quite the gang of potential killers, and it's a joy to see, say, Johnny Depp do his best slimy gangster and Daisy Ridley nail a role outside of a galaxy far, far, away. Every scene, there's bound to be someone you like, chewing the oak-panelled scenery in an entertaining, extravagant fashion.
The story, if you don't know it already, is one of Christie's finest: a taut, unique, clever thriller that ticks along wonderfully. That's probably why it's been adapted three times before, once for a TV movie starring Alfred Molina, once for an ITV special starring David Suchet and once for cinema screens, with Sidney Lumet's Oscar-winning 1974 version.
The money is on the screen. The word 'luscious' seems a bit pat, but that word'll be all that pops into your head as the camera swishes around the beautifully-appointed locomotive. It's just… slick. The costumes, the sets, the make-up, the wigs – they're all delightfully 'just so', and it's a fun throwback to this grander sort of cinema seen in the '60s and '70s.
Cons:
Kenneth Branagh's Poirot, complete with airport runway-sized moustache and multi-purpose Swiss army cane, is entirely over the top. He is beyond Belgian, beyond beyond… everything. This is peak Poirot, with every quirk overworked, ever characteristic turned all the way up to onze. He couldn't be more pernickety, more fastidious, more puffed-up. Putting to one side his physical dissimilarities to the 'real' Poirot, he's just altogether TOO MUCH and it's often laughable. In the bad way.
Around him, the pleasingly hammy pantomimery from the rest of the cast seems quite delicate in comparison – and there's certainly a lot to enjoy in the overblown acting department – but the script is so clunky you can't properly relish it, or engage with what's going on. The story ticks along, and it's all moderately entertaining, but you don't really care as the plot is jammed ham-fistedly into every line of dialogue.
David Suchet's Poirot casts a long shadow. His excellent ITV version went out in 2010, and there's something to be said for the TV advert break when it comes to murder mysteries. It's a left-field point, but when you're cramming so much story into two hours, you need a bit of a breather every once in a while – and here there are just so many dialogue scenes it can get a bit exhausting, and that's ignoring the fact that (whisper it) everyone knows the story already. There, I said it.
Three word review: Extravagant, overblown hammery
Join Radio 1's resident film buff Ali Plumb as he reviews the latest movies hitting screens and interviews Hollywood's hottest stars.
Subscribe to this podcast where the world's biggest movie stars share some never-heard-before stories.