Main content
Hastings Pier wins RIBA Stirling Prize for architecture 2017
Hastings Pier has been unveiled as the winner of the prestigious Royal Institute of British Architects (RIBA) Stirling Prize, in a ceremony at London's Roundhouse. The pier - rebuilt after a devastating fire in 2010 - has been reimagined by dRMM Architects as a multipurpose space.
About the project
Hastings Pier, on the East Sussex coast, dates from 1872. It closed in 2008 following storm damage, and faced destruction two years later when a fire ravaged the structure.
London-based architects dRMM won a RIBA design competition to reimagine the pier, and fundraising from a local action group found 3,000 shareholders to buy a £100 stake in the project.
Hastings Pier is a masterpiece of regeneration

RIBA president Ben Derbyshire
The new-look pier was repaired, rebuilt and creatively reimagined. The 19th century structural iron work has been painstakingly restored, and the surviving Victorian Pavilion has been transformed into an open-plan café-bar.
The vast pier deck has been set aside as a flexible expanse for concerts, markets and public gatherings, while the new timber-clad visitors centre has a viewing deck on its roof. The architects used timber reclaimed from the original pier throughout the project.
RIBA president and Stirling Prize jury chair Ben Derbyshire said: "Hastings Pier is a masterpiece of regeneration and inspiration. The architects and local community have transformed a neglected wreck into a stunning, flexible new pier to delight and inspire visitors and local people."
Maria Ludkin, chair of the Hastings Pier Charity, added: "Hastings Pier is both a symbol of regeneration achieved when communities work together and a beautifully designed canvas to realise multiple uses for residents and visitors."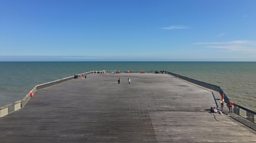 Before and after the restoration. Photos: Alex de Rijke
More architecture from BBC Arts
More from BBC Arts
How classic films influenced comic book writers and artists to create Batman and more

Kenneth MacMillan's dark and intense Mayerling, performed by the Royal Ballet

Turn your home into a project haven with this step-by-step guide to making a mosaic door plaque