Main content
Free Thinking Festival 2018: The One and the Many (9-11 March)
This year's Free Thinking Festival is a chance to examine the fast-changing relationship between the individual and the crowd.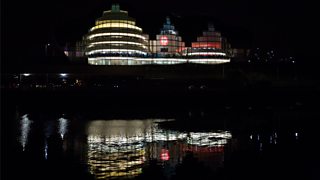 Throughout the weekend, BBC Radio 3 will broadcast live from a glass-walled pop-up studio erected at the heart of the festival venue, Sage Gateshead. You can listen to all the event's debates, lectures and other events on air – and online – in the weeks that follow.
With an opening address by leading economic expert Linda Yueh, the weekend will feature live discussion and debate on a fantastically diverse selection of topics...
What's the future for the free market?

Are we heading for a population crisis?

Why do we follow the crowd?

Are we afraid of being alone? And is it even possible, in this age of hyperconnectivity, to experience true seclusion?

Can there be multiple versions of me? And who is "me", anyway?
This year's festival features over 50 events and nearly 100 speakers, including writer Lionel Shriver, journalist Rod Liddle, broadcaster and writer June Sarpong, comedian Alexei Sayle, Johnny Mercer MP and historian and presenter David Olusoga. We'll also hear from the next generation of academics with the announcement of the latest cohort of Radio 3 New Generation Thinkers.
There's music, too, with live performances from the Royal Northern Sinfonia, The Unthanks and The Ebor Singers, The Keelers, The Unthanks, Voices of Hope and Musical Originals Singers of Jersey plus other acts. Friday's In Tune will see – and hear – the live broadcast premiere of The Pankhurst Anthem, a BBC Radio 3 choral commission to mark the centenary of of the parliamentary Act on women's suffrage in the UK. The new commission offers an opportunity for everyone to take part – so come along and join in!
All tickets to the events programmed by the Free Thinking Festival are free of charge and will be available to book on the Sage Gateshead's website from midday Monday February 5th.
Tickets to all events are free - and some tickets will always be available on the door.

All the festival talks, debates and events arranged by date, time and broadcast.

Full details of festival-related broadcasts will be published on this page in due course.