Main content
Appeal Show Announcements
Watch Appeal Show 2015 on BBC One from 7:30pm on Friday 13 November
Shane Richie and the EastEnders cast as well as Peter Andre to give special performances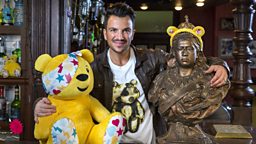 10-Nov
Shane Richie will reprise his role as host of the BBC Two Children in Need Appeal show at The Queen Vic. He will be joined by a whole host of famous faces as they pop into the Queen Vic to join in the fun.
Shane said: "It is such an honour to be back behind bar at The Queen Vic once again hosting for Children in Need. We have some wonderful guests lined up this year with some great surprises and it is set to be a very special night."
Not only will Shane host the BBC Two segment, he will also be performing on the night alongside Bonnie Langford and Richard Blackwood as they lead a 30 strong EastEnders cast in a special Top Hat musical dance performance for BBC Children in Need. In full vintage Hollywood glamour, cast members including Gillian Taylforth, Lorna Fitzgerald, Shona McGarty and Tameka Empson will perform live in the BBC Children in Need studios on Appeal night.
As well as some surprises on the night in the Queen Vic, the audience will be entertained by Strictly swinging sensation Peter Andre and his band. Performing 'Come Fly With Me', Peter said, "BBC Children in Need is a charity very close to my heart. I have seen first-hand how money raised makes a difference so am calling on people across the UK get fundraising to help make this Appeal the best yet. And please don't forget to tune in on Friday 1; it is going to be a really great night!"
Exclusive Star Wars inspired sketch announced for Appeal Show 2015!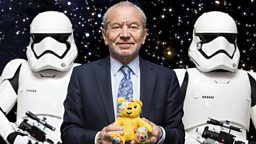 28 October
This year BBC Children in Need is set to join forces with Lucasfilm and Disney for a one-off special.
In an exclusive Star Wars inspired sketch, R2-D2 and C-3PO will be joined by Warwick Davis as they attempt to find a worthy winner to help trigger the first BBC Children in Need totaliser of the night.
It's an important task and Warwick is determined not to be side-tracked by the many famous friends in his path who are vying for this coveted role.
Tune into the Appeal Show to see who is revealed as the ultimate fan with some surprise guests along the way.
Scott Mills takes on challenge to abseil down Blackpool Tower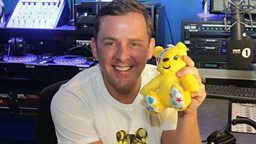 26 October
In an adrenaline-charged challenge, Scott Mills will become a Children in Need hero as he pushes his greatest fears to the limit.
On BBC Children in Need Appeal night, viewers will watch as Scott aims to complete a 400ft abseil down the iconic Blackpool Tower.
Earlier today, Sir Terry Wogan called Scott Mills on his BBC Radio 1 show to challenge him to take on the daring feat in a bid to inspire fundraisers around the country.
Sir Terry Wogan said to Scott, "Your mission, should you to choose to accept it, is to abseil down the Blackpool Tower, all 400 feet of it. I am going to send The Royal Marines to assist you in your daring deed. Doing this for BBC Children in Need will make you the bravest chap in all of the country and a real Children In Need hero!"
Speaking ahead of his challenge, Scott said "I would say I'm really excited to be part of this Children in Need this year, but to be honest, I am ridiculously nervous about what I am taking on. I've never done anything like this in my life and am scared of heights - so it really will be a challenge. But there are thousands of children facing their own challenges every single day and BBC Children in Need makes a real difference to young lives - if facing my fear and abseiling the Blackpool Tower inspires even just one person to donate then it will be absolutely worth it….especially when I get to the ground!"
Tune into the BBC Children in Need Appeal show to watch Scott as he attempts his gravity defying feat.
Star studded line-up announced for appeal show 2015
13 October
Sir Terry Wogan will be joined by Tess Daly, Fearne Cotton, Rochelle Humes and Nick Grimshaw as they return to host the Appeal Show extravaganza.
In one of the stand out moments on the night, Sir Bruce Forsyth will return to Strictly Come Dancing alongside Tess Daly. This year, hit BBC One show Call the Midwife will get a glittering Strictly makeover as four of its stars take to the dancefloor. Jenny Agutter, Laura Main, Stephen McGann and Jack Ashton will go head-to-head in a bid to win the Pudsey Glitter Ball trophy.
There will be lots of laughs and comedy on the night, a highlight of which will be Harry Hill, who in a one-off special will take viewers on a whirlwind tour of the history of TV in his own inimitable style.
Multi award winning songstress Ellie Goulding will be live in the studio with an exclusive performance of her forthcoming single 'Army' whilst music legend Rod Stewart will treat the audience to a performance of his new song 'Way Back Home'. Megastar pop princess Selena Gomez will also be performing her track 'Same Old Love'.
Later in the evening chart topping band Years & Years will take to the stage singing their song 'Eyes Shut', whilst in the meeting of two of the biggest pop bands in UK history, Westlife and Girls Aloud – Shane Filan and Nadine Coyle will perform their duet 'I Could Be' for the first time on UK television.
However, musical delight isn't just confined to the studio. Throughout the evening the show will take a trip to Walford and visit The Queen Vic where Shane Richie will play host to a house band with a special guest lead vocalist…
Leaving Albert Square behind them, the EastEnders cast will showcase themselves as you've never seen them before in a high octane, glamorous performance.
Across the country everybody is getting involved to raise money - none more so than the Children's Choir, who will be performing live on the night. Over 1500 children across ten different UK locations will be coming together to sing in unison for Pudsey.
There will also be musical performances from the West End cast of Beautiful, Kinky Boots and Bend It Like Beckham.
Sir Terry Wogan, BBC Children in Need Life President, says: "It was my privilege to present the very first BBC Children in Need in 1980 and it remains a privilege and a pleasure to reflect the extraordinary generosity of the British public. For that's what BBC Children in Need has truly become: the People's Charity. Their pounds, shillings and pence, given so generously, have amounted to an extraordinary total so far of £790 million! You can imagine the difference that has made to the lives of disadvantaged children and young people across the UK. The past couple of years have produced record-breaking totals on the big night, and it's fingers crossed for another magnificent response from the British public. Tess, Fearne, Nick, Rochelle and I are looking forward to a mind-blowing evening of great entertainment on behalf of a great charity."
Further details about the night will be revealed soon, so keep your eyes peeled!
For everything you need to get involved in our campaign, order or download a fundraising pack.
Every penny makes a difference to children's lives right here in the UK. Thank you for your support