Main content
About Gardeners' Question Time
So often in life the simple things are the best.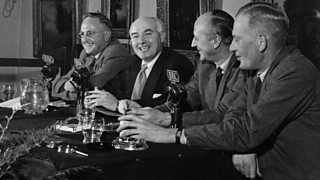 The very first Gardeners´ Question Time took a panel of expert gardeners along to answer questions from members of the Smallshaw Allotments Association, it was broadcast on 9th April 1947. Strictly speaking it wasn't called Gardeners´ Question Time at the time but How Does your Garden Grow?, however, it wasn't long till the name was changed - at least not long in the context of its close on 60 years of history.
In 1950 Professor Alan Gemmell joined the team and the sparky banter and astonishing good gardening sense of Fred Loads, Bill Sowerbutts and Alan Gemmell brightened listening for over 30 years. Entertainment and Enlightenment - always a strong combination.
The programme was confined to the Northern region till 1957 when it finally went national. For a couple of decades Sunday lunch around the nation was flavoured with favourites like The Navy Lark, The Clitheroe Kid, Round the Horne and Gardeners' Question Time. Only the latter survived into the 80s.
Over the years it has answered well over 30,000 questions. The panel members have been guests of a diversity of gardening clubs and other groups, including Leyhill Open Prison, the Palace of Westminster and a nudist club in Wales.