Main content
How new technology is shaking up the art world
Throughout history, artists have been some of the first adopters of new technologies. Early humans, for instance, used tools and fire to create pigments, which they painted on both themselves and cave walls, in one of the first instances of creative expression.
But will artists one day put down their tools for good? In Radio 4's Future Art, art historian James Fox explores how technology continues to transform the art world.
Here, we find out more about how artists are responding to Augmented Reality (AR), Virtual Reality (VR), and Artificial Intelligence (AI) and what the limits are to these burgeoning technologies.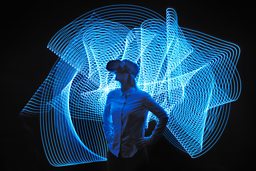 As new ways of making, selling and experiencing art gather speed, art historian James Fox sets out to capture the start of this new era.
Who's experimenting with cutting edge tech?
Many renowned artists have been turning to new technologies in recent years, including Cai Guo-Qiang, Stephanie Dinkins, performance artist Marina Abramović and sculptor Anish Kapoor. Their virtual artworks and performances are as unique as their physical creations.
Anish Kapoor: Into Yourself, Fall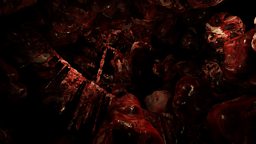 A still from Into Yourself, Fall © Anish Kapoor/Acute Art
Anish Kapoor's inspiration for his first Virtual Reality work came from the dizzying vertigo he experienced when wearing a VR headset for a game that takes the player up in a lift (virtually) then expects them to jump. For Kapoor, the experience was so visceral that he was inspired to pursue vertigo as a theme. The result was Into Yourself Fall.
He describes the immersive piece: "You're in a space which is circular, a kind of garden, I guess. And then, slowly, you begin to turn into yourself. It's as if there's a moment of falling. And it's fairly biological in a way: you fall into your throat and then down, as if you're turning inside out. There is an inner landscape… a physical experience."
In this virtual space, the viewer then navigates their way through bits of body and sinewy, muscley tunnels. As a sculptor, keeping his work as physical as possible is important to Kapoor, so how does this work in a virtual medium? "This rather fascinating technology … allows objects to appear to pass you by, to move beyond you. So there is a three dimensionality to the technology, which is wonderful." To further immerse the viewer, his son, Ishan, created a soundtrack to accompany the piece, with the aim of ramping up the sense of vertigo and anxiety.
Marina Abramović: The Life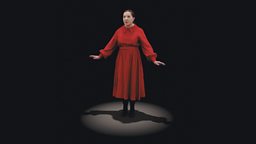 The Life – Mixed Reality installation with artist's box, by Marina Abramović © Christie's Images Ltd 2021
In 2019, The Life was exhibited at London's Serpentine Gallery, and later sold by Christie's. This Mixed Reality performance required members of the public to don special goggles, through which they could see Marina Abramović appear in the gallery in front of them. Unlike in Kapoor's work, some aspects of reality, like the gallery space itself, remained constant. The virtual Abramović performed within a black circle on the floor, before stepping out of it and evaporating.
In 2018, she used VR in her performance Rising, a commentary on the climate crisis which encouraged viewers to engage with an avatar of Abramović who was encased in a tank that gradually filled with water. The viewers suddenly find themselves surrounded by melting polar ice caps, and are asked to choose whether to save her from drowning by pledging to help the environment.
Cai Guo-Qiang: Sleepwalking in the Forbidden City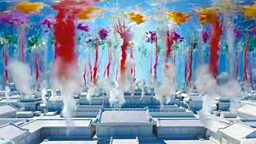 VR Still from Sleepwalking in the Forbidden City by Cai Guo-Qiang, created in partnership with HTC VIVE Arts. © Cai Studio
New York-based artist Cai Guo-Qiang is renowned for his spectacular firework displays and was the brains behind the opening and closing ceremonies of the Beijing Olympics. Last year, he rethought the ancient Chinese tradition in VR, in a move which proved that the ancient and the futuristic can work together in perfect harmony.
Thanks to Guo-Qiang and the power of VR, spectators could see the city light up, just as the ancient emperors once would have done.
He explains that, through VR headsets, viewers will first see him leaning against a wall of the Forbidden City. As he drifts into sleep, a cat slinks past and into the grounds of the palace. A magnificent firework display erupts over the city, and we alternate between seeing the spectacle from a bird's eye view, and joining the cat in watching the vibrant show from the rooftops.
The VR aspect of Sleepwalking in the Forbidden City allowed Guo-Qiang to achieve the impossible with his art. Firework displays are forbidden in the centre of Beijing, yet through the lens of a headset, he was able to create just that.
But traditional techniques weren't forgotten. Guo-Qiang invited craftsmen from his hometown of Quanzhou to hand carve a model of the Forbidden City out of alabaster. Over this, he transposed footage of one of his genuine firework displays, filmed in 360 degrees over the Liuyang River. Thanks to Guo-Qiang and the power of VR, spectators could see the city light up, just as the ancient emperors once would have done.
Stephanie Dinkins: Conversations with Bina48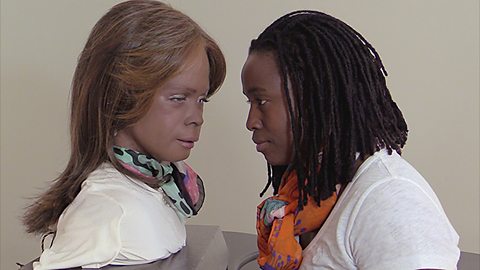 Fragments 7, 6, 5, 2. Digital video installation (2018). © Stephanie Dinkins.
For six years, Stephanie Dinkins has been building a relationship with a robot, Bina48, originally built by Terasem Movement Foundation. Bina48 is the head and shoulders of a black woman. Dinkins has spoken to her about love, gender, robot civil rights and race – a subject about which the robot had plenty to say. Dinkins explains: "Her answers seemed very surface, very politically correct."
Her solution was to create Not The Only One (N'TOO), an Artificial Intelligence (AI) entity which tells the life stories of three generations of black women. It has been trained on their oral histories, which it recounts as you approach it in the gallery space – however N'TOO communicates as its own character. Dinkins explains: "what I think I've really created is a fourth generation in a series of women – it's such a baby, but it's fascinating because I feel my family have a specific story which should be embedded into the AI ecosystem."
Will AI and VR lead to the death of the artist?
The art world is starting to realise that AI and VR can be used to augment long-standing traditional art forms, from oral storytelling to sculpture and pyrotechnics. These new technologies are expanding the realms of possibility – adding to an artists' toolkit, not making it redundant.
New technologies actually change what art can be.
Philosopher of arts Vid Simoniti (Liverpool University) has no concerns about artists being put out of business any time soon. "What we really have are computers that are very good at recognising patterns, and then replicating those patterns. It's a kind of a fad to think that they are creating art in any meaningful way."
While machines can create art themselves, Simoniti thinks the artist is the person who decides which of those creations counts as art. He says: "I do think that Artificial Intelligence of this form is all-pervasive and is influencing our lives in all kinds of ways, in ways that are often quite scary. I think it's the job of the artists to comment on that, so that's where creativity comes in."
Influential Swedish curator Daniel Birnbaum, director of Acute Art, is a keen proponent of the potential of VR as an innovative way to engage with art. He thinks it holds new possibilities for the world of art post-lockdown, and points out: "We placed a hovering beautiful ice cube in Regent's Park by Koo Jeong A, we placed cars floating on the river. New technologies actually change what art can be."

Exploring visual art on Radio 4
Art historian James Fox steps into the future to ask how technology is transforming the art world.

Offering listeners the chance to take a long, slow look at great artworks, photographed in incredible detail.