Main content
The Fourth Dimension
The Doctor, The Widow and The Wardrobe
The read through for the Christmas Special took place in Cardiff on the afternoon of Monday, 5 September.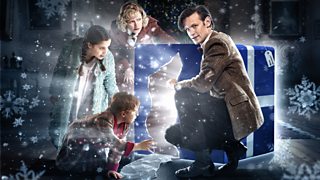 The stunning opening sequences in the spaceship corridors were filmed on 20 September, 2011, in Uskmouth Power Station. Conditions were so noisy that the crew wore ear protectors throughout the shoot.
The plane that Reg pilots is a Lancaster Bomber. The sequences involving the aircraft were shot on Monday, 3 October, 2011 in East Kirkby, Lincolnshire. The plane used is a 'genuine' Bomber that flew during the war.
The decorative ducks on the wall of the Arwell's sitting room find a visual echo in the house they stay at in Dorset - three planes on one of the walls in the children's bedroom.
The sequence where the Doctor shows the Arwells around the refurbished house originally included a scene featuring a 'haunted' coal cellar!
The Harvest Rangers are from Androzani Major - a planet in the Sirius System, introduced in the 1984 story which saw the Fifth Doctor regenerate - The Caves of Androzani.
Two of the Harvest Rangers' names - Ven-Garr and Billis - might sound vaguely familiar. Piers Wenger and Beth Willis were two of the executive producers alongside Steven Moffat during the first two years of the Eleventh Doctor's era...
The show's new executive producer, Caroline Skinner, previously worked with director Farren Blackburn on the BBC's critically acclaimed supernatural series, The Fades. The Doctor, The Widow and The Wardrobe is Farren's Doctor Who directorial debut.
The Wooden Queen is played by Doctor Who veteran, Paul Kasey, whose previous roles have included a Cyberman in Closing Time, Nephew in the Doctor's Wife and Ood Sigma in The End of Time.
The Doctor references the Forest of Cheam, an allusion to the 2005 story, The End of the World.
The Doctor mentions the Magna Carta, a 13th Century charter that helped established crucial areas of English civil liberties. In The King's Demons, the Master tried to prevent it being signed but the Fifth Doctor defeated his plan!
The sets for the Arwells' sitting room and the Androzani Harvester were right next to each other in the BBC's Upper Boat studios, so when Maurice Cole (Cyril) peered through the telescope, he was actually looking into the Harvester's control room!
A madcap caretaker greets evacuee Madge Arwell and her two children and leads them into a magical world.