Main content
9 Questions with Amber Riley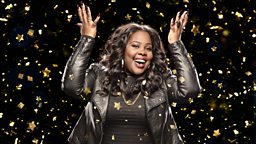 1. So, Amber, how did you get involved in Let It Shine?
They were looking for someone and my name came into the conversation. My agent asked me if it was something I would be interested in doing seeing as I was in the UK for a West End musical. I've always wanted to see what it would be like to be a judge on a show like this because I watch all of these types of shows anyway, I love music and I love singing. I always have an opinion about something, so why not try and be a judge on a TV show?!
2. Did you have to do some research on Take That?
I did look up their videos on YouTube, I had to do my research. I just loved how artistic they were! I loved their style and their dancing, it's very 90s! Some of those dance moves were very cool.
3. When did you meet Gary and the other judges for the first time?
I literally flew in and met them at rehearsals for the show. Everyone was lovely, of course. Gary gave me the low-down on everything, what to expect and what he was looking for. He wanted us all on the same page.
4. Can you see why British women have the hots for Gary?
Every time we came out the women would scream their heads off! I can see what they love about him, he's extremely charming, really smart, well-spoken and very warm, so I get it, I get the appeal, ladies!
5. How did you get on with the other judges?
It was great, Gary was wonderful and very funny. Dannii is so energetic and glamorous. Martin was like the dad on the panel. I've been away from the US because I'm staying here for a year to do Dreamgirls the musical, so Martin sent me flowers and a candle. Everyone was very inviting, they knew I was a little bit homesick, so they were extra sweet towards me.
6. What's it been like to be a judge for the first time?
It was hard. You want to be constructive and not just tell someone No, you want to be encouraging. I have been in their position before, I know what it's like to want something really bad and think it's going to be the turning point for your life, so being rejected is very hard. I wanted to be honest but not give anyone a false sense of hope.
7. What were you looking for from the contestants on stage?
The number one thing was stage presence, someone you couldn't take your eyes off of. This is something they are going to need when they go out on tour. You have to be able to hold the audience's attention.
8. Were there any disagreements on the judging panel?
Absolutely! We had a couple of disagreements because all of us were looking for something different in people. Gary's judging harder than the rest of us, though Dannii is surprisingly tough too. We couldn't confer about the contestants before we voted, so if you really liked someone you just had to hope that the others would feel the same way.
9. What advice would you give the contestants about dealing with the fame that comes with being on a show like this?
They need to make sure they always remember where they came from and remain grateful for what they have. They also need to live in the moment. A lot of people will push you to think about the future, and that's important, but while you're in it, don't lose focus.
Read our other interviews with the Let It Shine team: