Main content
What draws people to a life of poverty, chastity, and obedience?
Eight hundred years ago, a radical new religious movement began in the Umbrian town of Assisi. Its founder was a charismatic and unconventional preacher, visionary and mystic, who attracted men and women from across Italy to follow him, committing themselves to vows of poverty, chastity and obedience. This man was St Francis.
St Francis lived in the stunning hilltop town of Assisi (below). The skyline is now dominated by the Basilica of St Francis of Assisi, which houses St Francis' tomb, built in 1228, the year he was canonised and two years after his death.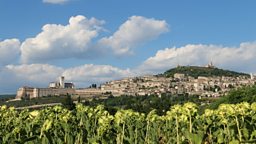 Francesco di Bernardone was the son of a wealthy merchant who spent his youth living the high life in Assisi.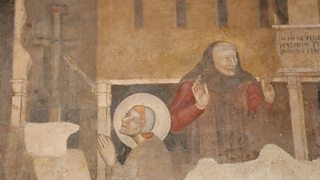 St Francis praying to the Byzantine cross in San Damiano
But all was to change. One day in 1205, he wandered into the crumbling church of San Damiano, down the hill from the main town. According to his biographers, while praying before the Byzantine crucifix, he heard a voice: "Francis, go and repair my church which, as you see, is all in ruins." The frivolous youth rejected his life of luxury, and gathered a band of brothers to join his way of life. Four years later he travelled from Assisi to Rome to ask permission from the Pope to establish a religious order.
After forming the Franciscan Order, St Francis was given a small church, surrounded by dense woodland, called the "Porzioncula", meaning "little portion". He loved the poverty reflected in its nickname, its isolation and its silence. It was from here that he sent out his Friars to preach the gospel of peace and joy and here where he died surrounded by his followers. The Papal Basilica of Saint Mary of the Angels was built around this tiny chapel.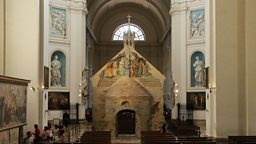 The Papal Basilica of Saint Mary of the Angels
Although Franciscans live all over the world, Assisi remains their spiritual home and a place of pilgrimage for many.
Among the members of the Order interviewed for the broadcasts, Friar Alessandro, known as the "Voice from Assisi", is a recording artist as well as a friar. He is particularly inspired by St Francis' love of music and poetry and says it's an important part of the friars' daily life. They sing for Morning Prayer, Evening Prayer, and Mass, and enjoy singing for others – it is their way of sharing their vocation and prayers with people.
You can listen to Fr. Alessandro performing the Canticle of the Creatures as he thinks St Francis would have sung it, having studied the music of the time: follow this link.
Another member of the Order is Fr. Eunon, originally from Ireland...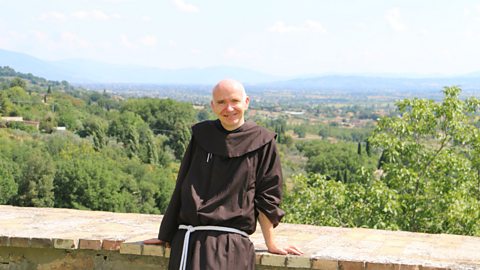 Friar Eunon explains the meaning behind the "garb" to Sharon Grenham Thompson.
The garden where Friar Eunon is pictured also features this statue of St Francis, surrounded by nature which inspired him to write poetry and music.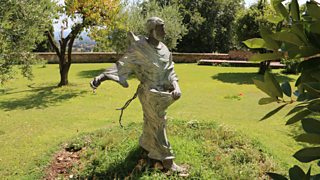 It was here that he wrote the Canticle of the Creatures…
Be praised, my Lord, through all your creatures,
especially through my lord Brother Sun,
who brings the day; and you give light through him.
And he is beautiful and radiant in all his splendour!
Of you, Most High, he bears the likeness.
Praised be You, my Lord, through Sister Moon
and the stars, in heaven you formed them
clear and precious and beautiful.
Known for his commitment to peace, the rejection of material wealth and love of creation and poetry, St Francis' legacy continues to inspire people today.
Members of the Franciscan Order in Assisi
In the Daily Service, Katharine Longworth reflects on the poetic works of St Francis and meets Friar Alessandro.

In Sunday Worship, the Rev Sharon Grenham-Thompson presents Brother Sun, Sister Moon: The Life and Legacy of St Francis of Assisi.

In the Daily Service the Rev Sharon Grenham-Thompson explores St Francis' commitment to spiritual poverty.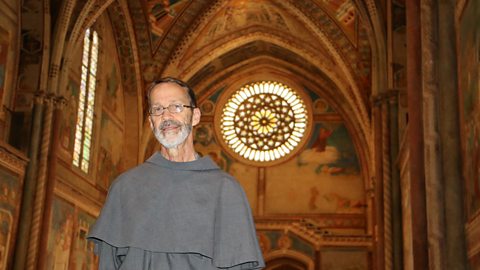 Friar Daniel, from the USA, says that chastity is a lost virtue in our society.
Recordings from Assisi will feature in Radio 4's Sunday Worship and Daily Service, broadcast between 29 July and 2 August. Choral Vespers, recorded for Radio 3's Choral Evensong will go out on the eve of the Feast of St Francis of Assisi on 3 October.

Where to find programmes on St Francis and services on BBC Radio 3 & 4
Live broadcasts of Evensong from around the country and recordings from abroad.