Main content
Staging a Revolution: Belarus Free Theatre in London
Belarus Free Theatre work both underground in Minsk, where they are banned, and in the UK, where the leaders of the company live as political refugees.
To celebrate their 10th anniversary, they presented Staging a Revolution, a two-week festival of performances and discussions in London featuring some of their most acclaimed original productions along with the world premiere of their brand new work, Time of Women.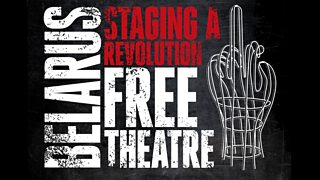 The festival pioneered a unique model of performance-driven campaigning to tackle social and political taboos, from mental health and torture to sex and inequality.
Opening on 18 October with the I'm with the Banned solidarity concert at Koko, which was commissioned by The Space and streamed live on BBC Arts, it continued from 2-8 November at secret locations around London. For the final part of the festival, from 9-14 November, the company returned to their UK 'home' at the Young Vic theatre.
Following each performance, a curated panel of artists, campaigners, journalists and activists discussed an area related to each taboo topic, generating ideas around taking action. BBC Arts, in association with The Space, presents extracts from six key shows below.
More from the BFT
The flagship event in the Staging a Revolution festival, commissioned by The Space and broadcast worldwide via BBC Arts.

A series of films from the Ministry of Counterculture introducing some of the members of the company.

Sarah Kane's final play, 4.48 Psychosis, was the first production Belarus Free Theatre ever mounted underground in Minsk in 2005. BFT's commitment to exploding taboos was cemented by the immediate condemnation by Lukashenko's regime, who denied that themes touched upon in the play – suicide, mental instability, sexual and political violence – could ever exist within Belarus.
Venue: House of Detention, Farringdon
Date: 2 November 2015
Review: "This was all-or-nothing theatre, love me or kill me. For an edge-of-your-seat, cold-banishing hour or so, they were the perfect conduit for Kane's fragmented outpourings, a spillage of mocking torment, loss of love, hope and self." – Dominic Cavendish, The Telegraph
When Belarus was part of the Soviet Union its people were prohibited from wearing jeans or listening to rock music. The buying or selling of either one could result in arrest at the hands of the KGB. BFT co-founder Nicolai Khalezin, who was detained during a demonstration in 2004, offers a candid account of the degradations of incarceration, the blossoming of young love and how denim became a symbol of freedom under the dictatorship. With music by DJ Laurel.
Venue: Q Park car park under Houses of Parliament
Date: 5 November 2015
Review: "An autobiographical monologue performed by its writer, the ponytailed Nicolai Khalezin…w ith skill and subtlety… is as honest about himself as it is unsparing in its description of the degradations of confinement… You go to the theatre to hear a story; you end up having met a man who, in his mixture of self-mockery and seriousness, shows a spiritual resilience that makes dictatorship look even more inflexible and absurd." - Michael Billington, The Guardian
Discover Love is an original drama, researched over nine years, based on the true story of Irina Krasovskaya and her husband Anatoly, a businessman who supported the Belarus opposition movement. One fateful evening in 1999, Anatoly called to say that he would be coming home late. Irina never saw her husband again. His car was later discovered, but his body has never been found; he simply "disappeared".
Venue: Kachette, EC1
Date: 6 November 2015
Review: "[Discover Love] should be seen by everyone who wants confirmation of the continuing relevance and vitality of theater as an art form… Each of these works blooms with a spirit of invention nurtured by limited means and an improvisational readiness to make a stage wherever you find it." - Ben Brantley, New York Times
The provocative Trash Cuisine includes moments of the darkest humour as it challenges the ongoing existence of capital punishment in the contemporary world. Some 36 countries retain the death penalty in both law and practice, and Europe remains on the list of continents where capital punishment still exists – in 2015 – because of Belarus.
Venue: New River Studio
Date: 8 November 2015
Review: "Its mixture of righteous anger and at times inspired theatrical imagination make Trash Cuisine an urgent and unforgettable experience." - Charles Spencer, The Telegraph
Shakespeare's great play about speaking the truth was one of the highlights of 2012's Globe to Globe Festival. Drawing on their first-hand experience of tyranny and exile, the Company present a fresh reading of the text drawing parallels between Lear's spiralling court and Belarusian society, whilst also interrogating the universality of power unwisely yielded. A stripped-back set and BFT's characteristically arresting visual style make this a vigorous and thoroughly contemporary King Lear.
Venue: Young Vic, London
Date: 11 & 12 November 2015
Review: "Bold, irreverent and provocative." - Exeunt
How is a play born? Should an artist be involved with politics? Incorporating testimonies from Belarusian political prisoners with excerpts from Nobel Prize-winning playwright Harold Pinter's lifetime of writings, Being Harold Pinter begins and ends with a search for the answers to these questions.
Venue: Young Vic, London
Date: 13 & 14 November
Review: "We should all be proud of the honour this production pays to Pinter: it equals the Nobel prize. These actors are no chatterers – they understand the vitriolic subtext of the plays. Under the amoral objectivity of the writing, they've found the moral fury that is its dynamo and its soul." - The Sunday Times
Arts highlights on BBC iPlayer
Watch 12 mesmerising performances from Dancing Nation, a sampler of UK dance in all its forms.

Chizzy Akudolu presents a new collection of dramatic short films.

The Oscar-nominated actress gives a singing masterclass.