Main content
Ali Plumb's Top 5 Underseen 21st Century Comedies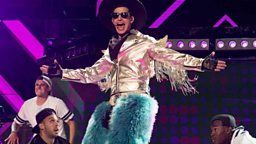 Now here's the deal: I wanted to do a 'The Five Best 21st Century Comedies' piece but frankly, there are too many good ones and besides, chances are you've seen them all already.
I'm thinking: Anchorman, Zoolander, The Hangover, Shaun Of The Dead, Hot Fuzz, Bridesmaids, School Of Rock, Team America: World Police, Tropic Thunder, Ted, Walk Hard, The Other Guys, 21 and 22 Jump Street, Step Brothers, Superbad, Dodgeball, Pineapple Express, Spy, Borat, Alan Partridge: Alpha Papa, Zombieland, Elf, Bad Santa, Easy A, Forgetting Sarah Marshall, The 40-Year-Old Virgin, Meet The Parents, Mean Girls, Jackass, In The Loop, Snatch, Lock Stock, I Love You Man, Pitch Perfect, Wedding Crashers...
The list genuinely goes on and on. And if you happen to have not seen some of the above, well, it's your lucky day! Time to catch up - and then check out my 'My Top 5 Underseen 21st Century Comedies' below, because that's where the real gold is.
But remember: comedy is subjective, and what makes me laugh may not make you laugh. And that's a good thing. Ain't life wonderful? Now... to the list!
Third party videos may contain adverts.
Writer-director Martin McDonagh is an incredible talent. As well as being the man behind this cult classic dark comedy about two Irish hitmen - Colin Farrell and Brendan Gleeson - hiding out in Belgium from their angry boss (Ralph Fiennes), he's also the multi-award winning creative genius who gave us Seven Psychopaths and Three Billboards, as well as a whole host of critically-adored plays. His first film, In Bruges, is arguably my favourite, a beautiful mix of blacker-than-black humour and genuine threat. Gleeson and Farrell are superb, some might say never better, and the whole tone is a treat. Plus, you can pretend you're in one of the most beautiful places in Europe, and a bit of sofa-based sightseeing might be just what you want right now (as long as you don't mind all that murder-for-hire stuff, might not be what you're looking for in a holiday I admit).
Fun fact: Over the course of this 107-minute movie, the "f bomb" is dropped 126 times, so that's a little over one swear a minute. Impressive.
Third party videos may contain adverts.
From the mind of another hyper-intelligent genius - Chris Morris this time - comes my second appallingly good directorial debut on this list. Morris wrote the script for this alongside the similarly gifted Peep Show veterans Jesse Armstrong and Sam Bain, putting together something that on paper just shouldn't work - but somehow does: a satire following a group of homegrown terrorists from Sheffield as they incompetently attempt to enact an awful attack. Helping walk this comedy tightrope walk are its stars, notably Riz Ahmed and Kayvan Novak, both of whom have appeared in many other big-name projects since. Incendiary, provocative and undeniably clever, this is a slice of pitch-black comedy that won't suit everyone's tastes, but if you're on its level it'll make you laugh and properly move you.
Fun fact: The poster for Four Lions had the quote "funny" on it 15 different times, all from different press outlets.
Warning: trailer contains adult themes
Third party videos may contain adverts
I know, I know, I'm obsessed. I keep mentioning this film and I keep telling you to watch it and I keep driving myself up the wall writing about it. But when it comes to 21st century comedies, this is one of the best, and God knows it was underseen. Olivia Wilde's directorial debut - look, another one! - has received most of its public praise after it hit cinemas, with its fans multiplying once it hit streaming services. On the surface it's a Superbad-esque "one crazy night" comedy about two hard-working, hella nerdy teenage best friends realising that while they've been swotting up to get into good colleges, the "cool kids" have managed to also get into good unis whilst also, occasionally, letting their hair down a little. Cue our two leads - the amazing Kaitlyn Dever and Beanie Feldstein - making up for lost time by going to every possible party they can and really letting rip. It's funny, it's silly, it's also somehow true. I love it. I think you will too.
Fun fact: Billie Lourd was so good during shooting that the screenwriters wrote her into more scenes last minute to get more from her.
2 | The Hunt For The Wilderpeople (2016)
Third party videos may contain adverts.
What We Do In The Shadows (2014)
Third party videos may contain adverts.
Well well well, another genius is it? Taika Waititi is the writer-director behind Thor: Ragnarok and Jojo Rabbit (for which he won an Oscar) but his real fans know him from his work with Flight Of The Conchords alumnus Jemaine Clement in What We Do In The Shadows, the dry-witted New Zealand vampire flat-share mock doc comedy that inspired the US sitcom remake of the same name. A couple of years later Taika released another absolute beauty, The Hunt For The Wilderpeople, starring Jurassic Park's very own Sam Neill and newcomer Julian Dennison, telling a story about a young boy and his "father figure" being the subject of a manhunt by New Zealand authorities after they wander off into the bush. I actually don't want to add too much more to either of these films here as I just love them too much and simply want you to go see them as soon as possible. Inventive, funny, inspired... they're very well done and just my sort of humour, deliciously dry and just the right side of "clever clever".
Fun What We Do In The Shadows fact: As the film was mainly improvised, close to 125 hours of footage was shot before it was all edited down to a 90 minute film.
Fun The Hunt For The Wilderpeople fact: In a much-loved scene, it's young Ricky Baker's (Dennison) birthday. Realising at the last minute they didn't have the rights to the actual 'Happy Birthday!' tune, the actors improvised and the 'Ricky Baker, it's your birthday!' song was born.
1 | Popstar: Never Stop Never Stopping (2016)
Third party videos may contain adverts.
Straight up, a shout-out to the other much-loved Lonely Island comedy Hot Rod (2007), a delightfully bizarre comedy about someone who's obsessed with becoming the next Evel Knievel, scooting his moped into a few swimming pools in the process. As you'd expect from SNL's The Lonely Island, it stars Andy Samberg and is properly odd. It also features one of my all-time favourite freeze frame endings ever, thanks to the underappreciated hero that is Ian McShane. But I digress.
Popstar: Never Stop Never Stopping came out in 2016 and died in the cinema. Barely anyone watched it, and there was barely any press. It was in theatres one week, gone the next. This was despite my desperate pleas on-air for you guys to watch it, a kinda-sorta Justin Bieber mickey take about a self-centred popstar Connor4Real (Samberg) losing control of his life after a series of unfortunate incidents. It's stuffed full of music-world cameos, from Mariah Carey to Ringo Starr, as well as plenty of comedy ones to boot, such as Sarah Silverman, Maya Rudolph, Will Arnett, Bill Hader and many, many more. It's dumb, it's clever, it's crass, it's witty. It's got so many great moments, so many great comic songs, I forget about one every time I rewatch it - the flatliners gag, the limo sequence, the basketball "three-pointer" - that it's a well I return to again and again and again. I've seen it in cinemas several times, and when it's next back on the big screen for an anniversary airing, I'll be back for that too. It's a lot of fun, and the songs are catchy too. You have been warned.
Fun fact: The Lonely Island were also a part of the team that wrote The Lego Movie's 'Everything Is Awesome', so you've got them (in part) to blame for the fact that it's still in your head to this day.
10 Honourable Mentions
If you're looking for a few more to add to your list...
Third party videos may contain adverts.
Third party videos may contain adverts.
Third party videos may contain adverts.
Third party videos may contain adverts.
Third party videos may contain adverts.
Third party videos may contain adverts.
Third party videos may contain adverts.
Third party videos may contain adverts.
Warning: trailer contains adult themes
Third party videos may contain adverts
Third party videos may contain adverts.
Third party videos may contain adverts.
Wondering what else to watch?
Radio 1's film critic Ali Plumb has put together his favourite TV sitcoms which are available to watch across all major streaming platforms: BBC iPlayer, Netflix, Amazon Prime and Now TV.
Ali Plumb reviews all the biggest releases and goes behind the scenes with Hollywood stars.
Ali Plumb has been given the very difficult job of having to curate a mixtape of the very best songs from greatest movies.