Main content
Six brilliant stories from Annie Nightingale's 50 years of broadcasting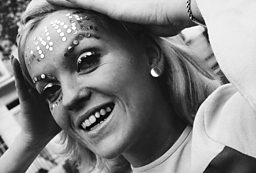 The legendary Annie Nightingale is BBC Radio 1's longest running DJ, starting in 1970 as the station's first ever female presenter. Half a century later and Annie – who turned 80 this year – has joined forces with Nick Grimshaw for a special two hour show in which she discusses five decades behind the decks.
Listen to the show hear how she's always been a champion of new music and young talent and hear tunes she broke, genres she helped popularise and artists she championed, from David Bowie and Primal Scream to Kanye West and the Chainsmokers.
Here are six of Annie's best stories:
1. She took David Bowie to the pub
Annie met David Bowie when he was a skinny 22 year old kid with frizzy blonde hair. After seeing him open up for another band, she dragged him to the pub across the road from the venue. "I said 'you are the future'," remembers Annie, who was one of Bowie's early champions. Three years later he created his Ziggy Stardust persona and became a global star. "He always stayed ahead of the game and that's why everybody thought so much of him," says Annie. "To me he was the heir to The Beatles."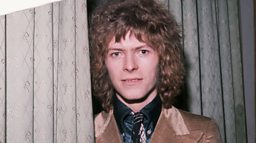 2. She was proposed to by Paul McCartney
Speaking of The Beatles, Nick Grimshaw finally gets the truth out of Annie when it comes to Macca popping the question. Did it really happen? "Well, sort of yes," reveals Annie. "But I don't think he was serious!" Paul McCartney apparently asked Annie to marry him while she was in the middle of interviewing his protegee, singer Mary Hopkin. "I didn't take it too seriously," she laughs, explaining that later she went on to be very good friends with his wife Linda. Annie firmly believes that The Beatles changed the world. "They created a huge revolution," she explains. "It wasn't just the music, which was sublime. They opened the doors for young people to do what they wanted to do… Nobody has changed the world like they did."
3. She got her only tattoo with Grimmy
Once named Caner of the Year, it's no surprise that Annie likes to party. A regular face in Ibiza, Miami and even a solar eclipse rave halfway up the Andes, Annie also recalls a memorable night spent with a platform boot-wearing Nick Grimshaw when she got her first and only tattoo. "We both went, 'well I will if you will'," she says of the incident, which took place at 3am.
4. She bet a Cadillac with The Clash… and lost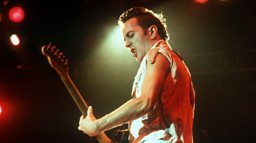 On hearing The Clash's seminal 1979 punk single 'London Calling', Annie was astounded by how good it was. "I said to Joe Strummer, that is a Top 10 record. He said 'no it isn't. I bet you a Cadillac that it won't go Top 10'." Annie took the bet and the track went to Number 11. The next week she went on air and explained that she now owed Joe a car, but had no way of getting her hands on one. A listener called in and said they had one they weren't using any more and she could have it, the only trouble being that it was a broken down wreck. Somehow she managed to get the car to the Radio 1 building and handed it over to Joe and the rest of the band. "They said, 'that's very nice', but they couldn't drive!"
5. She misplaced her MBE…
In 2001 Annie won an MBE, but broke royal protocol at the ceremony, speaking to the Queen before the Queen had spoken to her. "I thought I'd make it a bit easier for her!" she reveals, and said she started chatting about Prince William's teen aspirations to be a DJ. "I said, 'your grandson seems to be pretty keen on DJing', just to open the topic and have something to say to her… the only word she said was 'probably'!" It can't have caused too much trouble, because this year her MBE was upgraded to a CBE for services to radio. However, they've asked for her MBE back so they can replace it – and Annie's put it somewhere so safe that she can't remember where it is. "I don't know what I'm going to say to Buckingham Palace," she tells Nick. "It'll be here somewhere, but I don't know exactly where… It's a bit embarrassing!"
6. She missed a Beatles reunion because her car broke down
Annie was the lucky recipient of an invitation to Eric Clapton's wedding to Pattie Boyd, which took place at the guitar hero's country estate in 1979. Amongst the guests were Mick Jagger, David Bowie, Elton John and George Harrison (Boyd's ex husband), Paul McCartney and Ringo Starr, who all took the stage after the ceremony. Sadly, Annie didn't quite make it. "I never got there!" she laughs. "Remember, this is the days before Uber and mobile phones! My car broke down. John Lennon had moved to America by then, but I think it was one of the last times that the other three Beatles played together."
Nick Grimshaw meets Radio 1's first ever female DJ - the legendary Annie Nightingale, 50 years on from when she started at the station!
Hear part one of Annie's 'Annie-versary' specials, tracking her rise at Radio 1 and the music she's championed.