Main content
5 songs you should hear this week - w/e 16th February
Every day we play you a track that has just grabbed our attention. As soon as we hear it, we send it into the digital ether for you all to enjoy. Sometimes it's an exclusive, sometimes it's a favourite artist and, at other times, it'll be someone brand new. Here's this week's choice selection. Just click on the links to see the full Just Added playlist: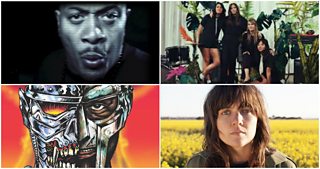 Czarface & MF DOOM – Nautical Depth
Czarface is the triumvirate of 7L, Esoteric and Wu-Tang Clan member Inspectah Deck, who collaborated previously with DOOM on Ka-Bang in 2015. This is the first taste from their upcoming LP, Czarface Meets Metal Face, which is due out on the 16th March. According to the press release the album will be: "ripe with cartoon violence, societal observations and pop culture musings." These musings are particularly noticeable in the witty lyricism of Inspectah Deck, AKA Rebel INS, who declares he's "deep like leviathan" with "flow likeDiCaprio, wolf of all beats." If you're a Wu-Tang fan, get involved with their very first radio show for BBC 6 Music. It will be two hours well spent.
La Luz – Cicada
It's been a few years since La Luz's last album, the Ty Segal-produced Weirdo Shrine, back in 2015 (You Disappear was a particular favourite on the 6 Music Morning Show). During this time the Seattle-born quartet have relocated to LA and sprinkled extra sunshine on their surf rock sound which, nevertheless, retains an edge. Singer Shana says: "I always felt like Seattle is kind of endless fall. And here it's just insanely sunny, which is awesome... and unnerving." As before, there are heavenly harmonies from the all-girl quartet, with some excellent guitar twang that we suspect Hank Marvin would enjoy.
Cut Chemist feat. Chali 2na – Work My Mind
This collaboration is taken from the new album Die Cut which is due out on the 2nd March. Cut was a founding member of Jurassic 5, as was the magnificently-voiced Chali 2na (who brought joy to the 6 Music Live Room last year). The album also features the likes of Biz Markie, Tune-Yards and Deantoni Parks (of The Mars Volta) and marks the birth of a new musical identity for Cut Chemist: "It isn't just the cut-and-paste style anymore. I'm collaborating with more musicians and sampling less. This is different. The content is emotionally heavier, even though it's still fun. It harks back to the energy you can share with live musicians rather than being a DJ alone on stage. I wanted to capture that with this style of music."
Beach House – Lemon Glow
Synth-pop duo Victoria Legrand and Alex Scally gifted this song to the world on Valentine's Day, sending: "everyone out there love." It's the very welcome first taste of an, as-yet-unnamed new LP, which is due in spring. And it's also their first new material since Depression Cherry and Thank Your Lucky Stars (both released in a busy 2015). We recommend you listen with the lights down low, while watching the checkered visuals which definitely enhance the beautiful psychedelic qualities of the song.
Courtney Barnett – Nameless, Faceless
This week Courtney has announced details of her second studio album Tell Me How You Really Feel (which will be released on the 30th March) and released this scathing lead single. Simmering with indignation and sarcasm, she examines the phenomenon of anonymous internet trolls: "Don't you have anything better to do…Must be lonely, being angry, feeling overlooked." And she's sorry (clearly, NOT sorry) about whatever caused their insecurities: because she just wants to be able to walk through a park, in the dark, without fearing for her life.
Courtney 1. Trolls 0.
She will be heading to Belfast with 6 Music for The Biggest Weekend which kicks off on Friday 25th May. Tickets are on sale now.
You can hear all the tracks via the Just Added Playlist
Discover more new music with 6 Music Recommends

<<Last week