Main content
5 songs you should hear this week – w/e 7th September
Every day we play you a track that has just grabbed our attention. As soon as we hear it, we send it into the digital ether for you all to enjoy. Sometimes it's an exclusive, sometimes it's a favourite artist and, at other times, it'll be someone brand new.
Please note the links below will take you to third party content, which may contain adverts.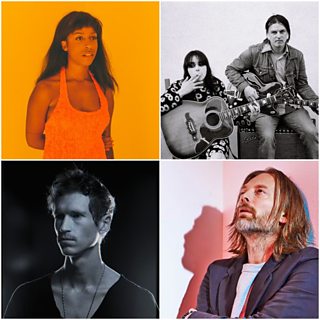 Tess Parks & Anton Newcombe - Talking About The Weather
This track comes from their second album which is due out in October. Anton Newcombe is best known as lead member of Brian Jonestown Massacre and Tess Parks is from Toronto, now based in London. They've released three albums in four years – Keep an eye out for their upcoming tour coming this December.
WWWater - Screen
Charlotte Adigery is one of our favourite artists at the moment and WWWater is one of her side projects. She collaborates regularly with Soulwax and has previously supported Young Fathers. She released her debut EP last year, so watch out for more material from this one.
Louis Cole Ft. Thundercat - Tunnels In The Air
This is the follow up to When You're Ugly released earlier this year.
Louis Cole is a LA-based multi-instrumentalist and vocalist, also known for his output with the band KNOWER, has found fans in Quincy Jones, Red Hot Chili Peppers and Flying Lotus who signed him to his label Brainfeeder earlier this year.
Thom Yorke – Suspirium
Yorke surprised fans on Wednesday by releasing this track online. It's taken from Luca Guadagnino's remake of the 1970s cult horror film Suspiria. Thom is no stranger to soundtracks, having worked on the shelved Bond theme for Spectre and Radiohead's Exit Music (For A Film) was written with Romeo and Juliet in mind. Keep an eye out for album listening parties in London, New York, Tokyo, Mexico City and more from next week.
Daniel Avery - Glitter (Jon Hopkins Remix)
Electronic heavyweight Jon Hopkins gives Daniel Avery's track Glitter the star treatment. Avery is about to join Nine Inch Nails on their US tour this October & November. His album Song For Alpha out now on Phantasy Records has been described by DJ Mag as "very much the sound of an artist with something special to say rather than a point to prove."
Discover more new music with 6 Music Recommends