Main content
Pooch Epistles – A Little History of Lapdogs
A pug in a mug was one of my odder birthday presents last month – a silicone tea infuser in the shape of a little pooch, writes Dr Seán Williams. But it was also pretty appropriate as I sat down to work on BBC Radio 3's Of Dogs and Duchesses. I'm a cultural historian, with a dogged devotion to the 18th century.
This time in history was not only when tea drinking took off. Companion dogs, house dogs, lapdogs – and all related pet paraphernalia – were immensely fashionable.
The historical equivalent of my pug in a mug is a porcelain pug, made by factories in Chelsea and Stoke, which modelled the painter Hogarth's famous little pet dog: Trump. So here is my account of the history of the lapdog from the 18th century to the present day. I'll make it snappy.
© Images courtesy of The Lewis Walpole Library, Yale University
The Popularity of Pets
Pets became members of the family in the eighteenth century. Although small animals had long been companions to some of us, in this period they moved into our home en masse, and across social classes — both in Britain and abroad. A caricature from 1819 jokes about this cultural change having completed its course: an old maid and a footman struggle to take their cat, monkeys, and a parrot on an outing. Their lapdog is in tow.
A German magazine for luxury and fashion catalogued "lap-animals" in 1789, likewise including cats, monkeys, and caged birds. Not just the parrot, but also canaries. German-speaking Tyrol was the chief exporter of canaries to Europe and beyond in this century. Fun fact for a historical Tweet of the Day: each year, 1,600 canaries were packed off from Innsbruck to England alone. But diminutive dogs were the most popular "lap animal" of the age, from pugs to Pomeranians. Dogs became man's – and woman's – best friend.
Changing attitudes are clearest at times of crisis. In the summer of 1760, reports of rabid dogs in London led to a council policy of mass killing. There was social outcry, as historian Stephanie Howard-Smith has observed. The public sympathised with the sufferings of dogs. Hence this was the time when the "dog doctor" was in vogue – that's a vet to you and me. In the German author Jean Paul's best-selling novel and pet project, Hesperus from 1795, we read of a Viennese animal hospital where an ageing pug and an old moggie put aside their differences.
By 1800, a German magazine complained that society was overrun by dogs (which it blamed on French immigration), but it was equally aghast at inhumane, indiscriminate shooting as the solution. The journalist proposed something more sensible: a dog tax. Plans for precisely such a levy had dogged the British parliament for most of the 18th century, and was finally introduced in 1796.
Dr Seán Williams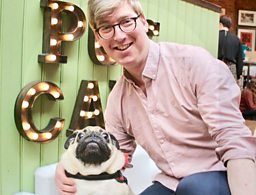 Seán is Lecturer in German and European Cultural History at the University of Sheffield. He has BA (Congratulatory First), MSt (Distinction), and DPhil degrees from Oxford. He has also studied in the USA and Germany. Before coming to Sheffield as a Vice-Chancellor's Fellow in 2015, he taught German and comparative literature at the University of Bern in Switzerland.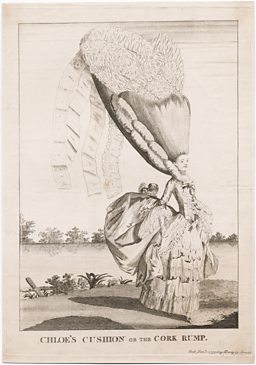 Today, dog licensing is common throughout Europe – though no longer in England, Scotland, or Wales. Most owners pay pet insurance premiums: it's obvious that dogs should be treated when ill. But if these ideas seem like common sense to us, they're the products of Enlightenment sensibilities.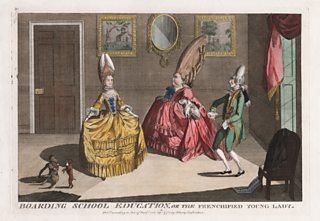 And when the lapdogs of that earlier era passed away, it was now socially acceptable to grieve. But there were limits: although Frederick the Great, King of Prussia, wanted to be buried alongside his dogs, his nephew entombed him next to his father instead. Historian Ingrid Tague, professor of 18th-century pets at the University of Denver, has counted 12 epitaphs and epistles published for canaries during the period, and 53 for dogs. And that's just in Britain. Back in Germany, the author Karl Philipp Moritz included a funeral sermon to a poodle in a novel of 1786. The following year, Beethoven composed an elegy to a poodle, too.
An Age of the Arts – and Pooch Epistles
The 18th century was an age of the arts. Canines were seen on canvas. Doggerel verse was penned. And since the Enlightenment was imagined as a "republic of letters", Jean Paul's Hesperus was an epistolary novel with the letters delivered by a loyal Pomeranian.
Even more amusingly, pooches allegedly took up the pen. In May 1748, Frederick the Great's sister, Wilhelmine, sent a letter from her dwarf spaniel to his little greyhound. Frederick's reply from his beloved Biche to Folichon lists reason and refined natural goodness as top-dog qualities. Frederick fills his letter with philosophical jokes, admitting that many people saw him as a wicked materialist. He then quips that he has been called a cynic – "and by cynic, they mean a dog". Cynic comes from the Greek for dog. If writing as Biche enabled Frederick to be witty and intellectual, it also allowed him to be pretty personal. As he wrote in another letter to his sister, Frederick could say things as Biche that he couldn't say as himself.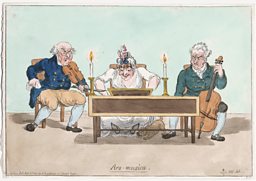 Sometimes, though, such thoughts are smut. Frederick's dog letter opens with a dirty joke. A letter to the 6th Duke of Devonshire's dog in the early 19th century unleashes the innuendo. In the archives of Chatsworth House in Derbyshire, there is a handwritten, flirtatious note in French from a Madame Rococo – wonderfully sketched in ink as a portly, spanielish dog in a shawl – to, yes, a Mr Bony… As much as letters from dogs expressed cleverness and high-minded ideals, then, they also gave words to animal desire. And political humour was added to this dog's dinner of cultural history, too. The British duke's Mr Bony is a cunning reference to Napoleon.
These historical, four-legged characters are not so different from the playful posts of social media-savvy, canine celebrities. Biche's letter may have been for Folichon's (or her owner's) eyes only, but she was also a beau of the German press. Biche was the Doug the Pug of her day. She paraded around Frederick's palace of Sanssouci, at home in both private and public quarters. This is not so different from today. Lapdogs are loyal companions and confidants, and they guide their owners through social life.
In researching this programme, I realised pop-up dog cafés can be visited throughout the country. I was keen to go, and opted for a pug cafe that was in Sheffield for one day only. The pug is a mascot for the 18th century, and I felt all the more sure in my choice on hearing that the pug cafes play a Motown soundtrack. As an organiser explained, the French bulldog cafés prefer chillaxing music, which sounds far less fun. My day out with over 40 pugs was very convivial. Not at all pugnacious.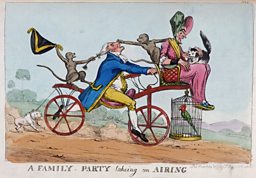 The Lapdog Legacy
Two hundred years have passed since the zenith of the lapdog; and one shift was already taking place towards the end of the 18th century. The lapdog expressed the virtues of that time, but also embodied its perceived vices – such as consumerism gone mad. Marie Antoinette commissioned dog beds made with silk cushioning: one niche chien is on display at the Metropolitan Museum in New York. The French queen's mother, writing from Vienna, had warned that people would laugh at her daughter's devotion to dogs. Social satire was rife, mocking ladies who indulged their pooches with comfort – whether at home or about town. But satirical sketches portraying lapdogs as an effeminate luxury dissipated towards the century's end. The side-swipes continued, but a general moral panic abated.
Lapdogs are loyal companions and confidants, and they guide their owners through social life.
More troubling than consumer tat is another aspect of dog history in the 18th century. It spoke to the most perverse version of consumer logic. Search for lapdogs in archives, and sometimes you may come across depictions of enslaved people having to entertain. In the past, slaves were given similar names to dogs. This topic demands more scrutiny and sensitivity than is possible in a brief, upbeat history that's concerned with continuity into today.
On occasion, the new relationships between dogs and owners caused more positive political thinking. But at times they also prompted an ugly contentment with the status quo. As Ingrid Tague writes: "For some Britons, pets reinforced a comfortable sense of superiority over their species, cultures, and classes. For others, pet keeping led to questioning of all of these hierarchies." In Germany, canaries were used to think through both individual freedom, and the relative merits of absolute monarchies. Pets have long been harnessed to think through the dominant debates of their day. For better, and worse.
The 18th century wasn't all canine love, cuddles, and doggy cushions. But for all the real, historical flaws of this age, the Enlightenment era invited dogs into the home, took pleasure in the pooch, and understood that affection as somehow universal. That's one legacy of the lapdog worth barking on about.
Not just a lap warmer – explore the deep and meaningful relationship between small pooches and their 18th-century owners – from the Duchess of Devonshire to Frederick the Great!

Free Thinking about animals on Radio 3
Did you know that 18th-century lapdogs sent letters, not infrequently in French?

Or are they just playing you for processed meat? Free Thinking investigates.

How an old dairying manual reveals fascinating insights into our ancestors' relationships with their livestock.