Main content
T-Shirt Day 2019
Since its inception in a West End boozer back in 2008, 6 Music T-Shirt Day has grown and grown…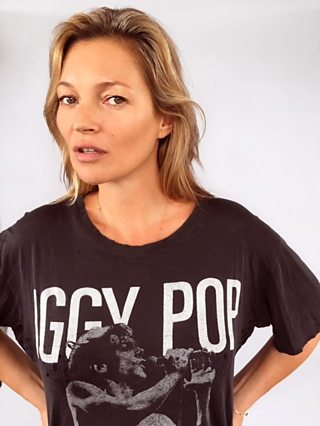 Kate Moss wearing Iggy Pop for 6 Music T-Shirt Day
Over the years we've talked to designers like Pete McKee, Aubrey Powell and Peter Saville about some of the iconic T-Shirt designs they've created and our audience have even designed merchandise for Pixies.
We've been joined by the great and the good, from The Specials to Simon Pegg, from Kate Moss to Florence and the Machine…
But most importantly 6 Music listeners from around the UK have taken to the streets to wear their T-Shirts with pride, letting us know the artists that they love.
So, on Friday 22 November we are celebrating the 12th T-Shirt Day and from 7am-7pm we are pledging to play only 'what you wear.'
Go on! Dig out your IDLES, your Blondie and your MF Doom, search the loft for your Cure, your Bonzos and your Bros… and let the world know what you will be wearing by using #TShirtDay
You can head to the BBC Radio 6 Music Facebook and join the event page for all the latest news.
And you can download and print off your own Lamacq cut out dolls template to dress your humble DJ in shirts from the likes of Nirvana, Slowthai and Run DMC, or create your own favourite band shirt.
Watch the film below explaining everything you need to know about the day itself:
We also have a new do-it-yourself stencil designed for us by indie royalty, Orlando Weeks, formerly of The Maccabees:
"Steve Lamacq asked if I could come up with a simple stencil for T shirt Day that could be downloaded, cut out and applied onto BBC 6 Music listeners' own favourite band T-shirts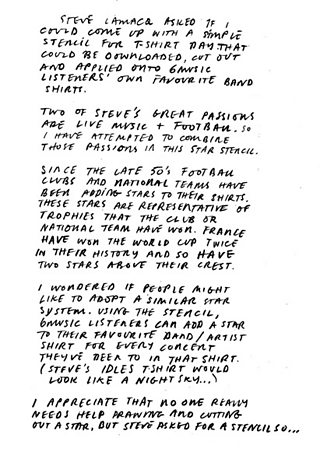 Orlando Weeks' handwritten statement
"Two of Steve Lamacq's great passions are live music and football, so I have attempted to combine those passions in this star stencil.
Since the late 50s, football clubs and national teams have been adding stars to their shirts. These stars are representative of trophies that the club or national team have won. France has won the World Cup twice in its history and so has two stars above their crest.
"I wondered if people might like to adopt a similar star system when it comes to gig going.
"Using the stencil, 6 Music listeners can add a star to their favourite band or artist shirt for every concert they've been to, (Steve's IDLES T-Shirt would look like a night sky.)
"I appreciate that no one really needs help drawing and cutting out a star but Steve asked for a stencil so..."