Main content
The unique characteristic helping Ransom FA rise to the top
MC Ransom FA is going places and it's partly due to his accent.

Not many artists sound like Ransom FA. The grime MC from Aberdeen doesn't disguise his accent when he performs but not everyone has been supportive of that choice. To begin with, some in the industry didn't take him seriously at all.

However, the drive to hear unique new voices has meant that Ransom's decision to remain true to himself is finally being rewarded.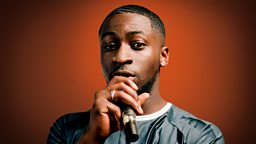 With a new album, Catch Me I'm Local, coming soon Ransom is on the up. He recently boosted his reputation by appearing on BBC Three's The Rap Game, where he competed for a record deal against other hungry young artists.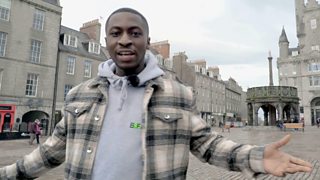 Ransom FA on the streets of Aberdeen
Speaking on TUNE, he revealed the value of retaining his accent and why he's never felt the need to tone it down.
"When I went on [The Rap Game] that was the main thing that made me stand out. I feel like when you're doing music you need to embrace your authenticity; what makes you unique."
Ransom has previously spoken of how he aims to represent people who feel alienated from the scene, as he initially did.

The rapper has even established a studio in his hometown where up and coming artists can record.
"I always wanted to build a scene because there was no one for me in the rap community for me to be like, 'Yo, I want to be like that guy'. No one had done what I want to do."

"I want to build something to inspire people. Because for me it's important to show them that I'm in Scotland I've got all these kinds of sounds, I can keep up with people from down south."
Latest features from BBC Scotland