Main content
Arts in the Archive
Highlights from the BBC Archive
Friday 11 – Sunday 13 April | 11am – 6pm | CCA, Cinema
The BBC maintains one of the largest archives of any broadcaster in the world, managing millions of hours of TV, Radio and Online content, encompassing over 90 years of broadcasting. The archive is constantly growing and the BBC is dedicated to exploring the ways it can bring the archive back out of the vaults and on to our screens.
This unmissable collection of highlights looks back at television arts documentary making at the BBC, throughout its history. With a number of titles to choose from, specially selected from landmark BBC series like Monitor, Arena, Omnibus and the Culture Show, this is a unique opportunity to relive key moments, revisit forgotten places and get face to face with some of the most popular people and practitioners in the arts.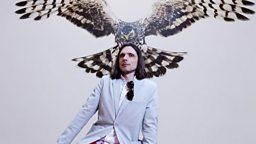 The Culture Show: Jeremy Deller
Friday 11. April
11:00-11:40 / Arena: My Way
A remarkable investigation into the enduring legacy of Paul Anka's hit song 'My Way', which has been covered by artists such as Frank Sinatra, Shirley Bassey, and Sid Vicious.
Director: Nigel Finch, 1979, 40mins
11:55-12:50 / Graham Greene On The Orient Express
Graham Greene travels from Paris to Istanbul on the Orient Express, talking about his life and novels. Greene was happy to be recorded on audio tape but refused to be filmed.
Director: Christopher Burstall, 1968, 55m
13:05-13:55 / Imagine: Who Cares About Art?
Alan Yentob visits museums around the globe to examine the relationship between five museum workers and the treasured works of art they care for.
Director: Sam Hobkinson, 2006, 50m
14:10-15:15 / Omnibus: The Wonderful World of Louis Armstrong
The remarkable story of jazz genius Louis Armstrong.
Director: John Akomfrah, 1999, 1h05m
15:30 – 16:35 / The Eye Hears, The Ear Sees, Normal McLaren
Animator, Norman McLaren, discusses his ground-breaking films which combine his love of music, dance and animation. This screening coincides with the centenary of his birth.
Director: Gavin Millar, 1970, 1h05m
16:50 – 1735 / Francis Bacon, Fragments Of A Portrait
Francis Bacon gives a legendary interview from his Kensington studio.
Director: Michael Gill, 1966, 45m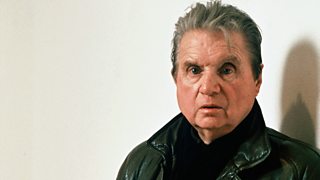 Francis Bacon in His Own Words
Bacon memorably describes his work as 'one continuous accident'.
Saturday 12. April
11:00-11:25 / Release: J.R.R. Tolkien
A rare TV interview with J.R.R. Tolkien as he discusses his epic saga 'Lord of the Rings' and his life in Oxford.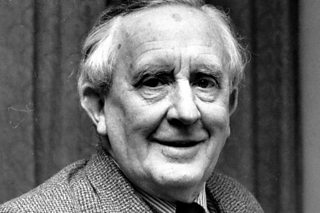 JRR Tolkien
Director: Leslie Megahy, 1968, 25m
11:40-12:20 / Ways of Seeing: John Berger
A programme about the way we look at paintings. John Berger looks at how art can be manipulated and obscured by false religiosity.Director: Michael Dibb, 1972, 40m
12:35-13:25 / Two Melons And A Stinking Fish
A frank portrait of controversial British artist, Sarah Lucas. Her work is often deeply personal, intertwined with her views on identity and sexuality.
Director: Vanessa Engle, 1996, 50m
13:40-14:25 / Monitor: Pop Goes The Easel
Ken Russell directors a fascinating glimpse of the most influential pop artists Peter Blake, Peter Phillips, Derek Boshier and Pauline Boty at the beginning of their careers.
Director: Ken Russell, 1962, 45m
14:40-15:30 / Dreamgirls: The Photographs of Guy Bourdin
Guy Bourdin's erotic and often disturbing images appeared in Vogue for almost 30 years. Dreamgirls presents Bourdin through the eyes of people who worked with him through his own personal archive of 8mm film.
Director: Nicola Roberts, 1996, 50m
15:45-16:45 / The Culture Show: Jeremy Deller, Middle Class Hero
Turner Prize-winner, Jeremy Deller, reminisces over his early influences as he prepares for his first major retrospective at the Hayward Gallery.
Director: Jack Cocker, 2012, 60m
17:00-1800 / Arena: Louise Bourgeois
Louise Bourgeois lets loose in this frank portrayal of her life and work filmed on location in her studio.
Director: Nigel Finch, 1994, 55m
Sunday 13. April
11:00-11:30 / Scope: Joan Eardley
A touching overview of the painter John Eardley who dedicated her life to documenting children living in the Gorbals area of Glasgow and the Aberdeenshire coast.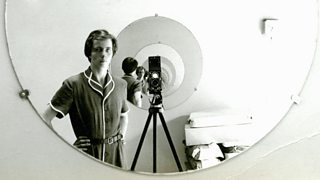 Vivian Maier
Director: W. Gordon Smith, 1973, 30m
11:45-12:15 / Barbara Hepworth
Sculptor Barbara Hepworth discusses her life against the background of the Cornish coast.
Director: John Read, 1961, 30m
12:30-13:40 / Imagine: Vivian Maier
Alan Yentob investigates the life of Vivian Maier, a reclusive nanny who took over 150, 000 photographs that were never published until after her death in 2009.
Director: Jill Nicholls, 2013, 1h10m
13:55-15:35 / BBC Archive Shorts
An eclectic selection of short films from the 1960s featuring rarely-screened interview with cultural icons such as: Andy Warhol; Susan Sontag; Philip larkin; Rene Magritte; Henri Cartier-Bresson; Madame Marie Rambert, and Shelagh Delaney.
Directors: various, 1h35m
15:50-16:30 / Lost Highway: The Story of Country Music
A documentary exploring the history of American country music, looking at the influence of mountain & Bluegrass styles upon contemporary musicians and audiences alike.
Director: Sally Thomson, 2003, 60m
16:45-17:45 / Otis Redding: Soul Ambassador
First-ever TV documentary about the legendary soul singer Otis Redding, following him from childhood and marriage to the Memphis studios and segregated Southern clubs where he honed his unique stage act and voice.
Director: Jeremy Marre, 2013, 60m