Main content
Are digital clothes the solution to our fast fashion addiction?
By Alice Cruickshank // BBC The Social Contributor // 13 July 2022
Would you buy an outfit that only existed in a photo?
At face value, that might seem a bit pointless, but is it really that different than people buying outfits, only to wear them once on social media?
The problem with that scenario is waste, given the huge amount of resources that go into making those garments, and the fact that ultimately, a lot of them end up in landfill.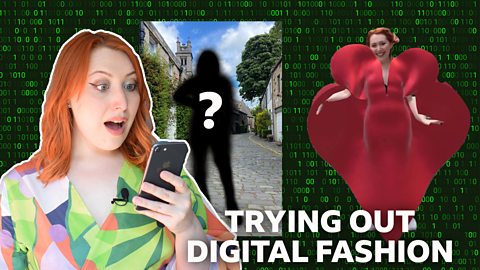 Would you buy an outfit that only existed in a photo?
I'm a young woman who posts equally about fashion and its environmental impact regularly on social media. I know first-hand that it's hard to build a conscious wardrobe when you just really love amazing, show-stopping, over-the-top outfits, but don't want your outfit choices to hurt people or the planet.
So, with my desire to look stylish and my environmental concerns front of my mind, I was very intrigued to come across the realm of 'meta fashion'. The concept first became prominent during the pandemic, when designers turned to digital runways to showcase their designs without staging in-person fashion shows.
Now digital fashion has gone a step further. DressX is one company that is helping to bridge meta fashion with real life, using technology that puts digital looks onto real photographs.
That means new outfits for social media without a single garment actually being made. Plus, it's size inclusive, as digital looks can be tailored to you, whatever your body shape.
I was a little sceptical that digital fashion can produce outfits that I would proudly flaunt on social media, but I was willing to give this strange new world a go to see if digital clothes could be the solution to our fast fashion addiction.
Trying digital fashion
DressX has an augmented reality try-on app that places the 'digital looks' on top of you as you take a snap or record a video. This works similarly to the social media filters that we're so used to (dog ears, anyone?). While I had great fun trying on some silly looks, I found the app was pretty glitchy. Plus, it blitzed my phone battery.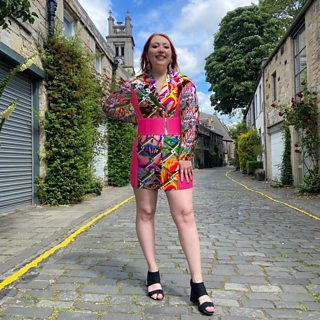 It's also important to note that some digital fashion available via the app and DressX's website is technically an NFT, but not all. I stayed away from any NFT items.
After having a play on the app, I went out to take my base photo that DressX would place my purchased 'digital look' onto. The website states that they can't take clothes away, only add them, which resulted in me being out in the streets of Edinburgh feeling way more naked than I was comfortable with, in a nude camisole and mini skirt! The tech also struggles with flowing locks, so I had to keep my hair out of the shot too – not my usual look.
After freezing my butt off and fending the judgemental looks of passers-by, I got my shot and ordered a colourful blazer-type dress for my digital outfit. It cost $36 (£30), which is a similar price to a new dress from many fast fashion brands.
The concern that I would ultimately look like a video game character was high.
Twenty-four hours later, my digital look arrived in my inbox. I opened it up and…
It wasn't awful.
At a glance it was quite impressive, but on closer inspection something looked a bit off to me. I knew I was biased as I'd seen the original shot, so I uploaded it to social media to see what my followers thought.
Are digital clothes the answer to fashion's sustainability problem?
The reaction on social media has been surprisingly positive. People seem to have been genuinely fooled and believed this was a real outfit, with one follower pointing out that she could see it being huge with influencers as a replacement to buying lots of clothes.
I didn't have anyone on social media say that they were rushing to try digital fashion for themselves.
However, I didn't have anyone say that they were rushing to try digital fashion for themselves.
In terms of my own views of digital fashion, it was undoubtedly a fun thing to try, and I love the concept. The logic is solid – if we don't make physical clothes, then we can save so many resources, without having to compromise our style and creativity.
But did this technology do enough to encourage me to start wearing digital outfits instead of real outfits? I don't think so.
I just really like to own beautiful clothes, but to own them, and respect them, and wear them for a long time. Plus, with real clothes I don't need to be nearly naked in public to get my social media photos!
But I do think this technology is really exciting. I would love to see online shops use it so that we could try clothes on without having to order them, and then return them. I think the sustainability impact using it that way would be enormous.
But as for getting us to switch up our fast fashion purchases for digital outfits? I don't think we're there yet.