Main content
An interview with Ricky Gervais and Stephen Merchant
The definitive guide to The Office
Ricky's favourite clip
You sent in thousands of questions about The Office and we put a broad selection to the creators - Ricky Gervais and Stephen Merchant. Take a glimpse into the minds of the award-winning writing duo as they talk about their inspirations, favourite clips and...Stephen's dad.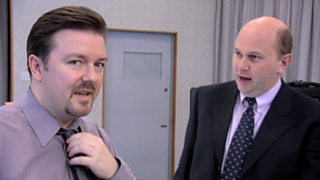 Remind yourself of one of the funniest moments in The Office EVER as Ricky Gervais chooses his number one clip, which contains his favourite line from the whole series. Stephen Merchant tries to stop him spoiling the clip by quoting the line....To view more of their favourite clips take a look here where you can find tenth anniversary interviews with Ricky and Stephen and members of the cast...
Question from Paul Morries, West Midlands: Why was the office set in a paper merchants?
Ricky and Steve: We wanted an industry that everyone knows exists but most people know very little about...
Question from Linny Baker, Portsmouth: You say it's finished but what happens if you have loads more good ideas for episodes of The Office?
Ricky and Steve: We promise you we won't have any more good ideas.
Question from Debbie Madders, Southampton: I've heard many rumours that Orlando Bloom has appeared in The Office (most say that he was in Series 1, Episode 5), is this true? And if it is, what scene can we see him in?
Ricky and Steve: As far as we know, he didn't. If he did, he was probably an extra in the Chasers nightclub scene but that seems unlikely.
Question from Adam Wilson, Beverley: Was 'Free Love Freeway' written especially for The Office or was it one of Ricky Gervais' own from "the band days" before he started acting?
Ricky: No, it was written especially for you guys.
Question from Chris, Sydney: Why didn't Tim accept the manager's position when Neil offered it to him?
Ricky and Steve: Because he felt that if he took the job, he would be at Wernham Hogg forever.
Question from Tom Walsh, Adelaide, Australia: Was Brent's dance in 2nd series episode 5 rehearsed, or did you just make it up as you went?
Ricky and Steve: It wasn't rehearsed. I just went berserk for thirty seconds, then had to have a sit down for twenty minutes.
Question from Stephen Civic, London: I loved the ending of the final episode. Was it a difficult decision to give it a basically happy ending - did you have any qualms about it?
Ricky and Steve: For as long as we can remember, we intended the show to have a happy ending but we wanted it to be moving and uplifting without being corny or mawkish. When we were making it we discovered that's much harder than we thought. Glad you think it worked though, thanks.
Question from Lucy Porchester, Manchester: The scripts to the Christmas episodes got sent to some random person who sold them to a newspaper. What was going on there?
Ricky and Steve: Someone at the BBC accidentally sent a script or a schedule or something to the wrong address. The woman who mistakenly received it did what any thoughtful, law-abiding citizen would do and sold it to the Mail On Sunday.
Question from Harry K, Wigan: Does David Brent have a family? He mentioned his Dad once but what about brothers and sisters and mum?
Ricky and Steve: His mum is dead, his dad is in a home and he has a sister.
Question from Eleri Forbes, Bristol: Has David ever had a relationship before? Has he ever been married or been in a long term relationship? Who? When? How many?
Ricky and Steve: He's had a couple of short-lived relationships but never got married.
Question from Greg Innes, Fife, Scotland: Did David Brent join Wernham Hogg as the regional manager or did he start off as the 'tea boy' and work his way up?Question from Greg Innes, Fife, Scotland: Did David Brent join Wernham Hogg as the regional manager or did he start off as the 'tea boy' and work his way up?
Ricky and Steve: He worked his way up.
Question from Peter Pelisek, Windsor, Ont. Canada: Why did David's old band split up? Does he still keep in touch with his old band mates? Did something interesting happen (such as a foul up with women or drugs) or did the group just fade away?
Ricky and Steve: They got fat and old and had to concentrate on their proper jobs.
Question from Billy Bobs, England: How the heck did Dawn ever get with Lee?
Ricky and Steve: They started going out at 15 and just settled into a comfortable routine. Marriage and kids seemed inevitable.
Question from Ken, Melbourne, Australia: Can you please tell me the Artist and title of the opening song?
Ricky and Steve: It's called 'Handbags and Gladrags'. It was made famous by Rod Stewart, written by Mike D'Abo and recently covered by The Stereophonics. Our version is sung by a guy called Fin.
Question from Rich Bolesworth, Nuneaton: Why does Gareth like David so much?
Ricky and Steve: Initially it was because David is in charge. Gareth respects rank. And he's a creep.
Question from Andrew, Swansea: What do you think Gareth would be like in bed?
Ricky and Steve: Keen.
Question from Mark, Sydney: My question is about the woman on the phone to Gareth in series two who asks him to bring 'the toys'. Is she the same woman that Gareth dances with and shows off his martial arts moves to in series one?
Ricky and Steve: No she's not, it's a different girl. Gareth is surprisingly successful with women, mainly because he has low standards.
Question from Phil Barnard, Griffith NSW Australia: Is the Caretaker that appears every now and then looking blankly at the camera really Stephen Merchant's Dad? Did he ask to be in the show or did you ask him?
Steve: Yes, he is my dad and we put him in because we thought he had a funny face.
Question from Emma Bullimore, Chelmsford: What does Peter Purves think about his cameo appearance in the training episode?
Ricky and Steve: Peter was an absolute professional and a joy to work with.
Question from Alan King, Liverpool: What other comedians or writers or characters influenced the humour of the show?
Ricky and Steve: Laurel and Hardy, This Is Spinal Tap, The Simpsons, The Larry Sanders Show and Whatever Happened To The Likely Lads.
Question from Sam Thomas, Cornwall: Were you scared about putting racism into your show?
Ricky and Steve: We don't think any of the characters are really racist. We thought it was interesting to write about the hypocrisy of people who think they're politically correct and the resultant awkwardness when they try too hard.
Question from John Arnold, Farnborough: Did you stick religiously to the scripts or was most of it improvisation and if so, how hard was it to perform?
Ricky and Steve: It was 95% scripted, with some improvisation here and there.
Question from Dave, Aiketgate: Is the set an actual working office or just a set created in a studio?
Ricky and Steve: It's a real office that happens to be part of Teddington Film Studios. For a while it was the production offices of 'Today With Des and Mel'.
Question from Stuart Griffiths, Cardiff: I'd just like to know how hard it was to capture the whole thing in a documentary style?
Ricky and Steve: It's harder than you may think because people are so familiar with the documentary style and so you have to work extra hard to make it seem convincing. It's a fun challenge for the actors though and allows them a lot of freedom.
Question from Midge, Suffolk: What things helped and what got in your way when you were trying to get the show off the ground?
Ricky and Steve: We'd never written or directed anything before, and Ricky was largely unknown, but we'd made a short video showing off David Brent, so the BBC got an idea of what to expect. If we'd had only a script to show people, it may never have happened.
Question from Jonathan Stanley, Banbury: Who made the inspired choice to include 'Halifax Howard' in the Christmas specials? Was he a primadonna?
Ricky and Steve: Howard was an absolute professional and a joy to work with.
Question from Stuart Somerville, Birmingham: What was the record number of takes for one scene?
Ricky and Steve: Seventy four. It was the scene where Brent gives Tim an appraisal. We kept laughing and couldn't get through the dialogue.
Question from Roland Duarte, Dover: What recent comedy shows around (if any) do you think have been especially good?
Ricky and Steve: Curb Your Enthusiasm, Little Britain, Peep Show.
Question from Callum, Harlow: What is your favourite single moment in the office?
Ricky and Steve: We both like the bit where Tim takes his microphone off at the end of series two.
High-flying manager, David Brent, is interviewed by Talent Spotters, Cooper and Webb.