Main content
Harmless Tradition?
Michael Jenkins, 28, is a film-maker from Bristol. When The Untold – presented by Grace Dent – heard about Michael's current project they got in touch, that was in December, he's now been working on his documentary for over a year and during that time has had to ask some difficult questions. In fact, he's been shut-out, blanked, and had to tread very, very carefully, because the film Michael is making is about Mummer's Day, also known as Darkie Day an event that takes place in Cornwall.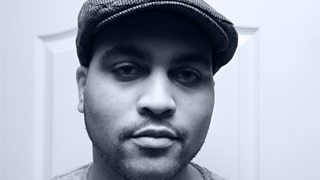 Michael Jenkins, film-maker
Here Michael writes about his first time visiting the area…
"When I arrived it was typical British weather; cold and wet. I didn't have much information to go on, just a start time and that was it, so we went to a spot in Padstow that had some stunning views, but it was raining and we didn't see many people. I was thinking well, where is this festival? After about 20 minutes of standing around I heard some drumming. We walked back to the harbour and I saw the parade... I was shocked and curious at the same time. Coming from Bristol I had never seen another person classified as white, dressed up in this manner."
The Padstow Mummers Day is a Cornish parade in which, as well as dancing, folk music and drinking, people black-up.
"When I learnt about this event I was really intrigued. Why do they black-up and wear those costumes, why call it Darkie Day, and what's it like for black people that may live there?"
Michael grew up on a predominantly white council estate in Bristol. There, the family endured a fair amount of racist abuse. As a teenager he was angry, 'I went through a phase, not looking for fights but just finding trouble'. Later, as a young man, he channelled this into making rap music, but as time wore on he went from making music, to making music videos. Now, Michael runs his own production company, 8th Sense Media.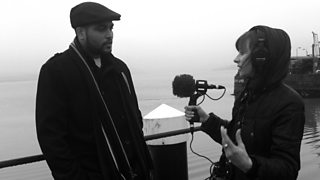 On Boxing Day morning, 2014, Michael along with fellow film-maker friend Benny Ben headed down the M5 to Cornwall to start recording for his new feature 'Darkie Day'. But things weren't as easy as they'd anticipated. People didn't want to talk, and Michael found it difficult to get the community to open up and trust him; he sensed they were defensive about a celebration that is part of their Cornish identity.

But during his time filming there were aspects of the parade that couldn't be left without comment…

"Then I heard that song," Michael writes, the song he's referring to is 'Old Uncle Ned', an American Minstrel song by Stephen Foster, which includes the line – "They gone where the good niggers go." Michael heard it when recording outside one of the pubs on the parade's route.
On hearing it he writes...
"The tone of the song reminded me of when I was filming the first EDL (English Defence League) demonstration in Bristol. The song was familiar, as I had researched classic music hall songs from over 100 years ago. This music was known as Coon Music (that's right you read that correctly) among other names and was very popular in the UK up until the 70s through the likes of G.H. Elliot and the BBC's Black and White Minstrel Show."
After the broadcast of The Untold's Darkie Day:Michael and the Mummer's episode, in February, Michael says there's been a change in the Padstow's community perception of him and his project. He thinks it could be that they'd seen that he wasn't out to exploit their view but actually wants to make a documentary that's fair and listens to all sides...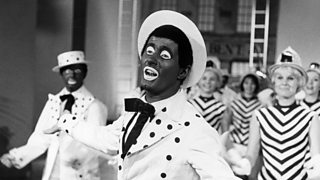 John Boulter in the The Black and White Minstrel Show on BBC One, 1964
"Since the radio documentary went out I have had a very positive response. A few of the locals reached out to me and offered to talk. They really made an effort to welcome me and I appreciate that with their help I'll be able to finish the film. The process of making this film has been fascinating and I have learnt so much. I strive to make films with an anthropological feel to them. People, history and culture amaze me. This film has tested me, as I'm passionate about things around racism, but as a professional filmmaker it's easy to step back and looking at things from all angles and perspectives."
Michael's still working on the film which you can see on his website.