Main content
Bloomberg London wins RIBA Stirling Prize for architecture
10 October 2018
Bloomberg's London office has been named the winner of the Royal Institute of British Architects (RIBA) Stirling Prize, in a ceremony at London's Roundhouse. The European HQ for the financial information firm, designed by Foster + Partners, was described by the judges as "a once-in-a-generation project which has pushed the boundaries of research and innovation in architecture".
About the project
Bloomberg's pioneering new European headquarters is the largest stone building project in the City of London since St Paul's Cathedral, and has been credited as the world's most sustainable office. The site's two buildings, connected by a bridge, sit either side of a new public arcade which re-establishes an ancient Roman road and incorporates new access to Bank Underground station.

Lord Foster, founder of winning architecture firm Foster + Partners, said: "From our first discussions to the final details of the project, Mike Bloomberg and I had a 'meeting of minds' on every aspect of the project – its sustainable focus, commitment to innovation and drive to create the best workplace for Bloomberg employees.

"The RIBA Stirling Prize is a testament to the incredible collaborative spirit that has underpinned the entire project from start to finish."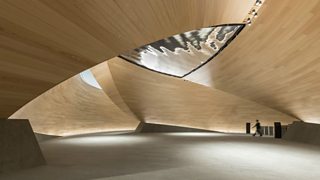 The Vortex art installation | © Nigel Young
On arrival at the building, you enter the 'Vortex', one of several art pieces throughout the scheme. The specially-designed lifts take you to a mid-level floor where the main concourse and café space is located. Desks and workspaces are then distributed in clusters accessible from a curved ramp.
The 2018 RIBA Stirling Prize judges, chaired by Sir David Adjaye OBE, said: "The design process involved unprecedented levels of research, innovation and experimentation, with pioneering new details and techniques tested, prototyped – sometimes at 1:1 scale – and rigorously improved.
"The real success though is in the experience for staff, visitors or passers-by – how Bloomberg has opened up new spaces to sit and breathe in the City; the visceral impact of the roof-top view across to St Paul's from the concourse space, the energy of descending the helix ramp or settling into a desk in one of the dynamic new workspaces.
"This ground-breaking project demonstrates what is possible through close collaboration between highly-skilled, imaginative architects and a deadly sophisticated, civic-minded client. Bloomberg is an astounding commitment to quality architecture."
RIBA President Ben Derbyshire added: "After vigorous debate, the jury reached a unanimous decision - Bloomberg's new European HQ is a monumental achievement. The creativity and tenacity of Foster + Partners and the patronage of Bloomberg have not just raised the bar for office design and city planning, but smashed the ceiling.
"This building is a profound expression of confidence in British architecture – and perfectly illustrates why the UK is the profession's global capital. This role and reputation must be maintained, despite the political uncertainty of Brexit."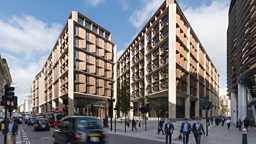 The two buildings are divided by a pedestrianised dining arcade | © Nigel Young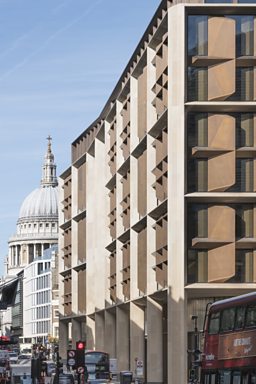 The Derbyshire sandstone and copper fins of the Bloomberg building | © Nigel Young
More architecture to explore on the BBC