Main content
This spectacular fire festival is the pride of a coastal community — but why can't women take part?
The Burning of the Clavie is a much-loved local tradition, but calls for modernisation are being given short shrift.
On January 11th each year residents of Burghead, a small fishing town on the Moray coast, gather together for an extraordinary event.
It's known as The Burning of the Clavie and it marks the 'old' New Year. The celebration stems from the 1750s when the introduction of the Gregorian calendar changed the date of the new year.
While the rest of Scotland celebrates Hogmanay on the 31st December, Burghead, known locally as the Broch, marks it almost a fortnight later. Hidden Lives, a new BBC Scotland series, followed the preparations for this popular event.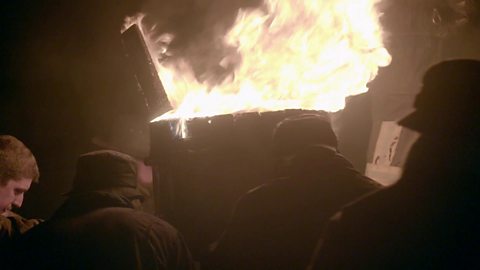 At the Clavie fire festival the explosive force of the flames delights the crowd.
The burning barrel
The Clavie itself is a barrel of tar and wooden staves which is set alight and carried through the town. The community follows the procession, gathering the charred remains of the staves in order to bring them good luck in the year ahead.
The whole event is overseen by the Clavie King. His is a hereditary position, and he leads the 'Clavie Crew', a group of local men who build and then carry the burning barrel around the town. It is considered a great honour to be part of the crew and play a part in this long-held local tradition.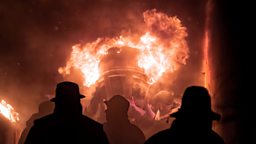 Calls to modernise
But some people want Burghead to move with the times, and recently calls have been growing for women to be admitted to this all boys club.
An anonymous correspondent to the local paper claimed, "The Clavie belongs equally to all of us." She continued, "Tradition should not be used an excuse for inequality".
The current Clavie King, Dan Ralph, is unswayed by pleas to modernise the event.
"I suppose there are women who are stronger than men, but not in the Broch here," he said.
"They know the roles and they're happy to let the menfolk get on with burning the Clavie and upholding our tradition".
Hidden Lives begins on Thursday 17 October on BBC Scotland. It will be available after broadcast on BBC iPlayer.
Latest features from BBC Scotland