Main content
Monzo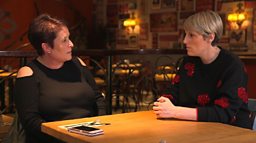 An investigation by BBC Watchdog Live reveals that online only bank Monzo has been leaving some customers without access to their money for weeks - after freezing their bank accounts, and leaving some people in financial difficulty.
Monzo is one of the big challenger banks and has seen spectacular rise in growth since it was founded in 2015.
There are millions of people in the UK who now use the bank to spend, save and manage their money, with hundreds more joining every day.
Frankie and her partner Chris had 3 accounts with Monzo. When they first joined they had no issues but all of a sudden Monzo froze their accounts and wouldn't give an explanation as to why.
Frankie used Monzo as her main bank and had to wait several weeks to get her full balance back. More concerningly for Frankie and Chris, wages that were due to go into his account couldn't be paid, because it was frozen.
Frankie told Watchdog Live presenter Steph McGovern 'It's been really stressful because it's put us into rent arrears, it's actually put a bit of a strain on our relationship as well. You know, how do you explain to a 4 year old that there's no food in the house because of a bank?'
Monzo says the money has been returned to Chris's employer but the couple are yet to receive it.
The online bank is freezing accounts is because they believe there is suspicious,- and under money laundering regulations, it does have the right to freeze and close an account. But the number of cases Watchdog has heard about, and the delays some people have experienced while waiting for their funds raise questions over whether Monzo is getting it wrong when it comes to freezing accounts.
We spoke to financial crime solicitor Arun Chauhan who said "It just seems that they've grown a bit too quick and their compliance procedures haven't caught up with their growth."
Frankie and Chris aren't the only customers Watchdog Live have heard from. In the last three months, we have had more complaints from Monzo customers about freezing and closing accounts than any other bank.
One got in touch and told the programme, "I told Monzo I have no money for food or travel. They suggested I borrow off friends and family."
Another viewer said said Monzo offered them help via a shelter for the homeless when they said they couldn't pay their rent.
Monzo tell customers they should get their money back between 2 – 4 weeks but Watchdog Live has heard from customers who are waiting even longer than that.
Experts told the consumer programme that after 14 days the bank would know the outcome of most investigations and from that point on customers should regain access to their money or have it transferred to another bank if their account has been closed.
Presenter Steph McGovern said:"Recently, I've been talking about the banks needing to be more secure with our money, but this is the other extreme. People not being able to pay their bills and in some cases feed their kids, because their accounts have been frozen and they don't know why. Monzo needs to sort this out."
Response from Monzo:
"Typically, if we discover that activity is not suspicious, an account that has been frozen is reactivated in 10 minutes. We have robust processes and controls in place to flag any unusual activity in Monzo accounts.
Crucially, no conclusions can be drawn based on a bank refunding those whose accounts have been closed. It does not mean they have been treated unfairly. Without context, which we are prohibited from sharing by law, it is incorrect to reach a conclusion about why accounts have been frozen or closed.
Our customers have consistently praised our award-winning customer service. Feedback from customers is incredibly important and we're always working to do better. However in these cases, we have acted in line with our legal and regulatory obligations."