Main content
Aidan Turner joins A History of Ideas
Aidan Turner, yes he of the rugged cliff tops and rolling corn fields, is the latest to add his voice to the animations that accompany the History of Ideas series on BBC Radio 4.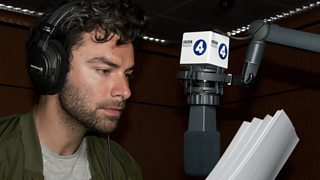 You can hear the actor, who plays Ross Poldark, explain some philosophical concepts such as What Is Love? Should You Believe in Miracles? and Wittgenstein's Beetle in a Box analogy this coming July on Radio 4.
They're designed to provide a short and sweet exploration of some pretty big ideas. The Radio 4 programmes take a deeper look.
Aidan Turner says
"I think it's a great project to be involved in. The scripts are witty, clever and very sharp; they're ideal for a quick hit if you want to know what some of the heavy weights of intellectual history were about and how their ideas formed debate and influenced the minds of future generations."
We think Mr Poldark is one more good reason to get philosophical and we were very pleased to welcome him to the BBC Radio studios; we might even have got a little bit over-excited. Sorry Aidan about the pilchards and the Cornish pasties.
You'll have to wait until July to hear Aidan in action but in the meantime try our Poldark v The Philosophers quiz.
Aidan follows in the footsteps of Stephen Fry, Gillian Anderson and Harry Shearer who have all lent their varied and beautiful voices to the animations in the last three series.