Main content
Clock this timely tribute for Museums at Night
To misquote the aphorism, a man with two clocks never knows the right time. In that case, there's no hope of accuracy for artist Luke Jerram who has created an art work with a thousand donated time pieces to celebrate our obsession with the hour of the day.
The installation at Thelma Hulbert Gallery, in Devon, is titled 'Harrison's Garden' in honour of 18th Century clock-maker John Harrison is credited with solving navigation at sea by creating the most accurate clock of his, well, time.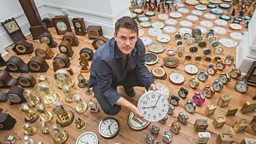 Artist Luke Jerram with his installation Harrison's Garden. Photo by Helen Lisk.
The Honiton museum won a public vote organised by Museums at Night to work with the internationally-renowned artist who said that the Georgian clockmaker Harrison would be bowled over by our obsession with time.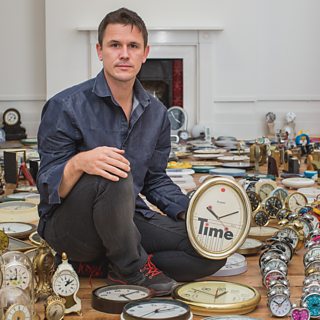 What might the art installation look like if the collection of clocks were assembled 50 years ago, or perhaps in 100 years time?

Luke Jerram
"Would he ever have imagined that there would be clocks in almost every room of every house and that they would shape society so profoundly," Jerram said.
"Society has become regulated through the clocks that surround us. We wake up, work, eat and sleep when it's time to do these things. The clock has also been internalised, brought within psychology to the extent that most of us often know the time quite accurately without needing to look at a clock."
Many of the clocks in this installation have been donated by the public to the project, each carrying their own personal story and significance. Other clocks have been sourced from junk shops around the South West of England, having previously come from house clearances.
Jerram said: "How many times has each clock been glanced at by their owners, touched, moved, reset? What important and mundane events have been prompted by the clocks' alarms ringing out? What might the art installation look like if the collection of clocks were assembled 50 years ago, or perhaps in 100 years time?"
With around a thousand clocks in the installation, they have been clustered into similar types and form islands, pathways and borders, hence the title of the piece. Some clocks seem like classics of their time, others are a pastiche, pretending to be classical clocks of a previous era.
"There are carriage clocks, which presumably have been given to employees in their retirement, travel clocks, anniversary clocks, children's clocks, digital alarm and wall clocks. Clicking, ticking, the landscape of sound is beautiful, rhythmic and musical, but also at times some how unnerving. The installation seems alive, gently twitching," Jerram said.
The artist was also interested in how certain clocks are becoming redundant, replaced by time-keeping on our phones and computers.
Luke Jerram is known worldwide for his interactive large-scale public live art projects. Most recently Park and Slide saw a giant water slide being installed on Bristol's Park Street, while his celebrated street pianos installation Play Me, I'm Yours has been presented in more than 46 cities across the world.
As part of the after-hours festival, the Thelma Hulbert Gallery will host a number of family-orientated events around the clock theme. Jerram also hopes to tour the installation, and let Harrison's Garden grow, with more donations and stories added from the public.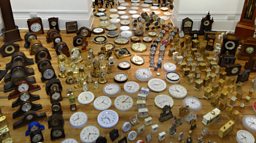 Harrison's Garden by Luke Jerram
Elsewhere on Get Creative
Banish those wonky fangs and mismatched eyes with this step-by-step guide

Get Creative Family Arts Festival patron Michael Morpurgo talks creativity

A satsuma recreation of a Michelangelo fresco has been named the Ultimate Edible Masterpiece