Main content
Egg Rougaille
Shalina Permalloo Cooks The Perfect Student Dish: Butter Bean Curry
This is a typical Mauritian street food dish but it's also ideal for anyone cooking on a budget who wants something that's both cheap and easy to make as well as being utterly delicious.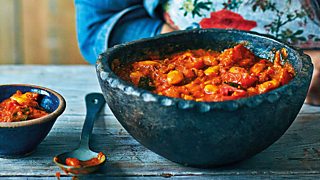 Subscribe to our download or sign up to our newsletter to be kept up to date with all cookery items.
Ingredients
2 tbsp vegetable oil
1 large white onion, finely chopped
3 garlic cloves, grated
2.5 cm piece of fresh root ginger, peeled and grated
5 curry leaves
3 tbsp Mauritian curry powder (if you can't buy this you can make your own see the tips section)
2 red bird's eye chillies, roughly chopped
2 medium tomatoes, quartered
2 tbsp tomato purée
400ml hot water
1 x 400g tin butter beans, including the water from the tin
1 tbsp salt
freshly chopped coriander, to garnish
Preparation Method
1. Heat the oil in a pan over a medium heat and fry the onion until translucent. Add the garlic, ginger and curry leaves and sauté for 3 minutes. Add the curry powder, chillies, tomatoes and tomato purée and cook for 5 minutes until thickened.
2. Add the hot water and butter beans along with the water from the tin and cook for 15 minutes, or until the sauce starts to thicken again.Season with salt.
3. Garnish with the coriander and serve with Roti. Delicious!