Main content
'World War Onesie' — how night-time air raids started a revolution in the type of clothing women wore to bed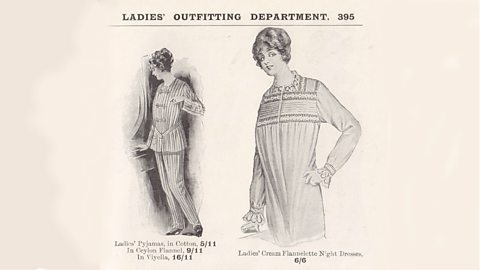 The Great War was the first time it became acceptable for women to wear pyjamas to bed.
Promoting pyjamas to women
Lucie Whitmore, a PhD Researcher at University of Glasgow, described "the huge change in lifestyle" that surrounded events of World War One and was responsible for changes in women's fashion.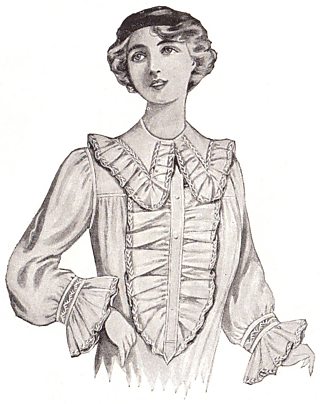 An advert for a more traditional night dress (Photo credit: Lucy Adlington/History Wardrobe)
Would it not be better to run out and look at the zeppelin in a pair of tasteful blue pyjamas and a pair of scarlet, Turkish slippers?

Manchester Guardian, October 1915
"Before the turn of the 20th Century, both men and women would have quite often worn nightgowns, so even pyjamas for men were relatively new around 1900."
Zeppelin air raids began in 1915, meaning women and children could suddenly become victims of war in their own beds.
"Magazines started suggesting that women should either wear more practical nightwear – should they have to run from their beds in the middle of the night – or nightwear that really made them look presentable should they bump into their neighbours [out on the street] at 3am."
"Civilian armour"
Pyjamas were warmer and practical; their pockets were useful for storing things necessary in an emergency.
Another recommended garment was the sleeping suit – essentially a "First World War onesie" – which was also comfortable, practical and warm.
One St Andrews newspaper article reported that, prior to the war, women would have been thought of as "extraordinary freaks" if they wore pyjamas.
Although Lucie "doesn't 100% agree" with the way these items of clothing were marketed, she explained that, by 1918, about a third of all women were wearing pyjamas to bed — demonstrating that the popularity of "slightly useless, civilian armour" had really taken off.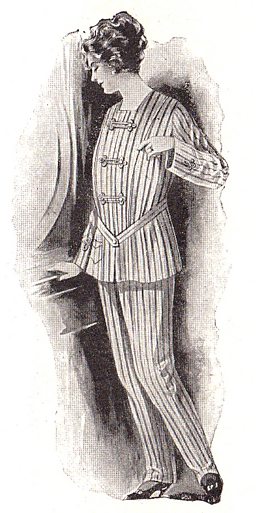 Photo credit: Lucy Adlington/History Wardrobe
Women's roles in World War One
The First World War also saw a massive shift in the roles of women within British society.
The absence of large numbers of young men resulted in women setting aside traditional expectations and instead taking on the sorts of roles required to keep the country running.
Latest features from BBC Scotland
The 'stigma' of debt is preventing people from asking for help.

Psychotherapist Anna Mathus on dealing with outbursts.

Art blacksmith Agnes Jones on sexism in the industry.

An ancient manuscript reveals some curious advice.

Clever about Cash returns with advice for the home.

The Scot faces a punishing regime before meeting Jack Catterall.

The Style Fixers share their tips for customising a plain pair of shoes.

Chloe and Bert the boar shed light on the industry.

Alfie's carers decide whether he is strong enough to receive treatment.

Why a Scots family opened their home to refugees.

Pilots, cabin crew and passengers remember this national treasure.