Main content
Eggs Collective: Smile Love It Might Never Happen
25 April 2019
Eggs Collective – Sara Cocker, Lowri Evans and Léonie Higgins – are a Manchester-based trio whose hit Edinburgh Fringe shows were followed by 2017 BBC Two pilot Get a Round. Now they return with Smile Love It Might Never Happen, their offbeat take on the legendary shops of TV comedies.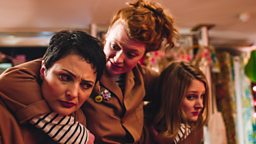 Eggs Collective's (l to r) Lowri Evans, Sara Cocker and Léonie Higgins in Smile Love It Might Not Happen | Image © BBC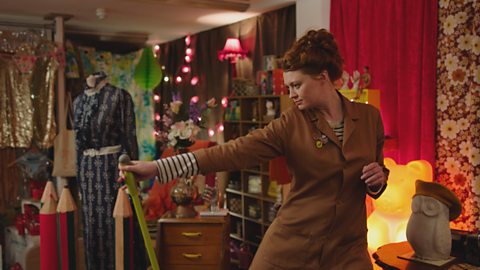 It's cleaning day in Eggs Collective's shop and a suspicious stain causes a dilemma.
Dirty
It doesn't need to be vacuum cleaner – it could be vacuum clean-him.

Léonie
It's cleaning day in the shop – Lowri is keen to save the planet, Sara wants to dance with her broom, and Léonie wants to end the myth that cleaning is for women.

When Lowri spots a suspicious stain, scrubbing turns to sleuthing: how did it get there and whose job is it to clean it off?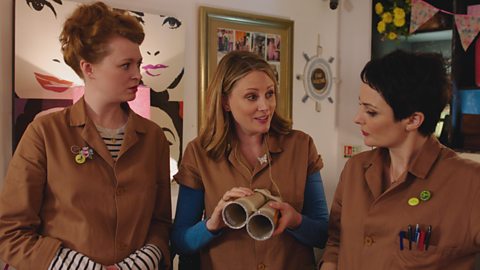 It's not delivery day, but three unwanted packages turn up in Eggs Collective's shop.
Packages
I'm the kinda guy who supports women in business

Regular Joe
Three mysterious packages arrive at the shop and once the masking tape is ripped off and the contents are revealed, Sara, Lowri and Léonie are overwhelmed by what's inside.

The day turns into a tedious version of Jumanji as the exasperated trio attempt to wrangle the unwanted cargo back into the boxes.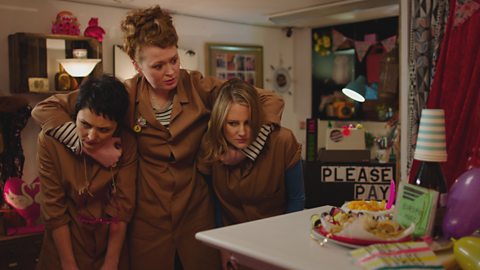 It's party time but the annual report isn't done. Will Eggs Collective get out on time?
Staff Do
I, for one, would be gutted to see those crisps go to waste.

Sara
It's the end of term in the shop and everyone's ready to get the party started, but disaster strikes when Lowri reveals she hasn't done the end of year report.

Léonie's fuming. Sara suggests opening the cheap wine and getting the paperwork together so they can still get out and party – it's just an end of year report, how complicated can it be?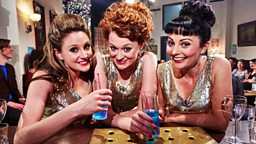 Eggs Collective also appeared on BBC Two's critically-acclaimed Get a Round, based on their 2017 Edinburgh Fringe show | Image © BBC
More from BBC Arts
How classic films influenced comic book writers and artists to create Batman and more

This exciting artists delivers an innovative performance of his epic poem