Main content
Psychedelic frontiersmen: How Dan Hicks and The Charlatans licked West Coast rock into shape
9 May 2016
The colourful career of musician Dan Hicks, who died in February, began in 1965 when he and his band, The Charlatans, awash with LSD and dressed as cowboys, took over a Wild West saloon in Nevada. From here, they pioneered what would become the trippy, idiosyncratic sound of West Coast rock. ALEC PALAO recalls a true original.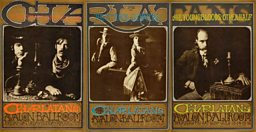 Poster for three concerts by The Charlatans at the Avalon Ballroom, San Francisco, 1967. They were also designed to be posted separately. Artists: Rick Griffin, Robert Fried. Photography: Herb Greene.
With the rock'n'roll half-century now an all too frequent-celebration, last summer it was the turn of rock band The Charlatans to mark their anniversary.
No, not that baggy lot; the Mancunians were barely out of the cot when the original Charlatans quintet debuted at the Red Dog Saloon, in Virginia City, Nevada in the summer of 1965.
At this now legendary residency, awash with LSD, the band and coterie indulged their fantasies to the utmost, playing Cowboys and Indians for real out in the hills of the Comstock.
The Red Dog had all the atmosphere of a fabulous, invitation-only party
The Red Dog had all the atmosphere of a fabulous, invitation-only party but the after-effect was akin to the West Coast's own psychedelic Kismet. A signal event amongst the many other indicators that told a particular generation something big was about to happen.
What's generally not known is that The Charlatans might also have been one of the first conceptual rock aggregates.
A full ten years before the likes of Devo, George Hunter, a recent transplant to San Francisco from southern California, had envisioned a band of post-Beatles uniformed automatons, manipulated by a central controller.
Hunter was an artist, not a musician, and his head brimmed with ideas that melded Burroughs-style post modernism with an appreciation of turn-of-the-century, Maxfield Parrish sensibilities. A slant perhaps not dissimilar to today's steampunk movement.
The avant-garde brainstorm fell by the wayside when the planned ensemble – which included Hunter's former schoolmate Mike Wilhelm on guitar, barrelhouse pianist and nascent bohemian Mike Ferguson, and clarinet-tooting bass player Richard Olsen – discovered that plugged-in folk, old-time country and Berry-flavoured rock'n'roll were more appropriate to their disposition and abilities.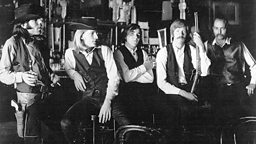 The Charlatans at the Red Dog Saloon, Virginia City, Nevada, June 1965. L-R: Mike Wilhelm, George Hunter, Richard Olsen, Dan Hicks, Mike Ferguson. Photo courtesy George Hunter
The android look similarly metamorphosed organically into a stunning sartorial profile, a blend of antique Victorian and Edwardian tailoring and vintage western gear, detailed down to the last starched collar and pistol holster (this at a time when "packing heat" meant a quaint hipster accessory, rather than the badge of anti-government indignation).
Mike Wilhelm: "The image was just the way things went down. We'd be looking for clothes and getting this turn of the century stuff, living in San Francisco with all the Victorian houses, and so that style became appropriate. It all looked more together than it actually was."
The most intriguing aspect of the Charlatans sound was the material from the pen of new recruit Dan Hicks
Not that the Charlatans went in for the peace and love trip, mind you. There was a collectively sardonic air to the band, which meshed with the eclectic playlist: a cornucopia of Americana that emerged from a cloud of marijuana.
In the group's hands, Leadbelly's traditional Alabama Bound was transformed into a pulsating shuffle, the 16th-century madrigal I Saw Her shimmered with baroque intent and Wilhelm's slide guitar imbued 32-20 Blues with the authentic air of a juke-joint brawl.
But the most intriguing aspect of the Charlatans sound was the material from the pen of new recruit Dan Hicks, a singing/drumming/strumming individualist with a unique songbook to match.
Hicks tunes like By Hook Or By Crook or I Got Mine would prove remarkably compatible within the Charlatans' aesthetic. His musical "quips" imparted a nod-and-a-wink panache that complemented the visuals perfectly.
Unlike their San Francisco contemporaries, the Charlatans would not strike gold, in commercial terms at least. While Jefferson Airplane and Sopwith Camel had hit records, and the Grateful Dead and Big Brother packed the Fillmore and Avalon, the inconsistent Charlatans lost an early record deal and wound up spending the Summer of Love working a topless bar in the tourist trap of North Beach.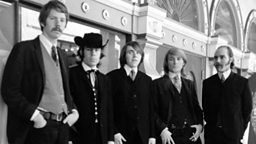 The Charlatans, 1966 in front of the Hippodrome, Pacific St, in the Barbary Coast area of San Francisco. L-R: Dan Hicks, Mike Wilhelm, Richie Olsen, George Hunter, Mike Ferguson
The original band split without much fanfare in early 1968, a solitary 45rpm single representing their recorded oeuvre (a reconstituted line-up did manage to cut an album the following year). Posthumous releases, both unsanctioned and official, have since helped bring the Charlatans' true qualities into focus.
As much as they might have partook, the group did not play "acid rock." Their role in psychedelia was literally as frontiersmen, mapping the future path that roots-infused rock might pursue. A veritable rock'n'roll take on the Hole In The Wall gang, the Charlatans' chimera remains one of the most vivid that popular music might yet dream up.
In assembling the Hot Licks, Hicks would merely crystalise the same idiosyncrasies exhibited with his former group
Dan Hicks: "The Charlatans? I spent three years in that band: formidable, sensitive years! We were just cast to be local. It had to do with the personalities, that somehow it didn't go further. I had written How Can I Miss You way before, but it fit, and those guys played it good too. I didn't push myself as the songwriter, it was just every now and then I'd have a song."
Whilst drumming for the Charlatans, Dan Hicks had performed solo, and made plans to lead his own organisation. In assembling the Hot Licks, he would merely crystalise the same idiosyncrasies exhibited with his former group, adding a jazz-informed sophistication to the mix.
Signature tunes like the wonderfully sarcastic How Can I Miss You When You Won't Go Away might get retooled as a soft-shoe shuffle or a gypsy jazz lament. Hicks' early "folk noir" repertoire now sported natty, western-swinging attire, not unlike the loud but tasteful retro chic the man himself wore.
Bluegrass, ragtime and the blues all fit in there somewhere too, yet it remains difficult to properly describe Dan Hicks' style to the uninitiated. While the sound might seem identifiably retro, the attendant wit and wordplay had the knowing air of the late 1960s zeitgeist.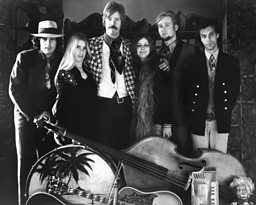 Dan Hicks & His Hot Licks, circa 1970 (Michael Ochs Archives/Getty)
There was a playful sense of the off-centre, fully on display within picaresque tales of innocent bystanders, euphonious whales and several vignettes devoted to a ventriloquist's dummy named Shorty.
To be sure, his sound was accessible. But nobody sang Dan Hicks like Dan Hicks. He made sure the Hot Licks were stocked with first class players, and supplemented them with the vocal appeal of the ubiquitous Lickettes, whose call-and-response interplay lent them the air of a hippy Andrews Sisters.
On stage, Dan assumed the role of the ultra-cool raconteur, spiced with dry comedy
On stage, Dan himself assumed the role of the ultra-cool raconteur, spiced with dry comedy that might also occasionally diverge into the slapstick, in a style vaguely reminiscent of silent movie star Sam Turpin.
The Hicksian worldview resonates strongest with the baby boomers who came of age in the late 1960s, but it is not rooted to one place or time.
Hot Licks albums like Original Recordings, Striking It Rich and Last Train to Hicksville have gained a select group of fans, including Elvis Costello and Tom Waits. 1980s throwback Thomas Dolby even scored a hit with Hicks' I Scare Myself that was not a patch on the arid original.
Though less prolific in more recent decades, Hicks continued to perform and record, pleasing a considerable cult following until his untimely passing from cancer in February of this year.
One of Dan's most memorable moments with the Charlatans was a piece entitled We're Not On The Same Trip. It was meant as a gentle admonishment to a potential partner, but the title acts equally as a cypher for the eccentricities of his and the Charlatans' musical legacy, when put up against the mainstream. And thank heavens for that.
Alec Palao is a British-born, California-based reissue producer and writer, and five-time Grammy nominee. He is responsible for the official releases of vintage Charlatans material, including the recent collection The Limit Of The Marvelous.
Charlatans at the Red Dog Saloon, 1965, designed by George Hunter and Michael Ferguson from the band. Probably the first ever 'psychedelic' poster
Dan's fans
It's a testament to the standing of Dan Hicks that so many of his high-profile fans were prepared not just to sing his praises but to play with him too.
Cue a very select but diverse collection of musicians who paid their respects: Rickie Lee Jones, Elvis Costello, Bette Midler, Maria 'Midnight at the Oasis' Muldaur, Thomas Dolby and Brian Setzer from the Stray Cats.
Jack Nicholson was also a pal while Tom Waits, a big admirer, described Hicks as "fly, sly, wry and dry".
Hicks Picks
The Charlatans only ever issued one album during their lifetime. The Charlatans (Philips, 1969) is not without its charms but feels too little, too late. Only two original members remain and Hicks is long gone.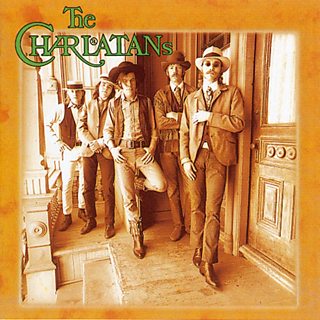 Better to get their posthumous anthology, The Amazing Charlatans (Big Beat, 1996, above) which pulls together various sessions and hard to find singles, nailing the group in all their idiosyncratic glory.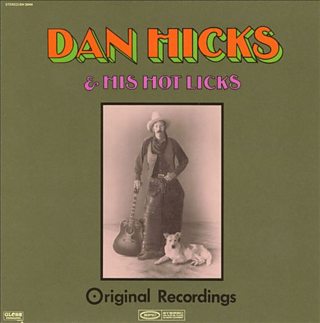 Dan Hicks & His Hot Licks' first outing, the gently swinging Original Recordings (Epic, 1969) is a wonderful statement of intent, and includes two Hicks classics, Canned Music and I Scare Myself.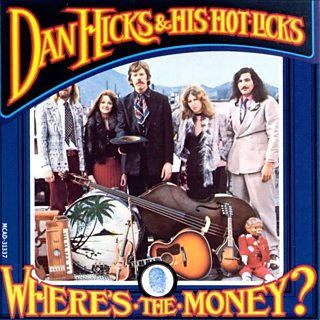 Where's The Money? (Blue Thumb, 1971) finds Dan and band live, loose and intimate. Hicks' staples I Feel Like Singing and Shorty Falls in Love are here, along with some dry Hicksian patter.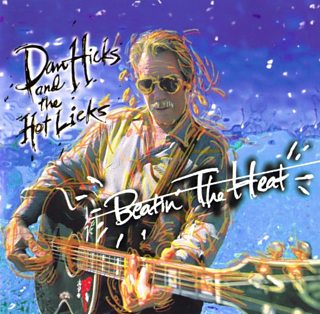 Beatin' The Heat (Surfdog, 2000) is a late return to glory, featuring cameos from many of the Dan fans mentioned above.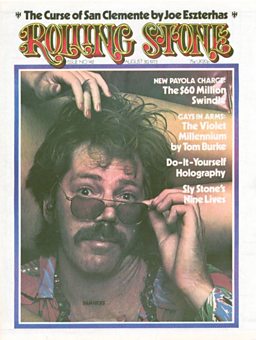 Dan Hicks on the cover of Rolling Stone magazine, 1973
Warning: Third party content may contain adverts.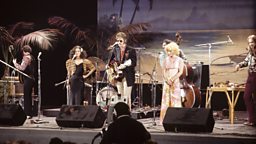 Dan Hicks & His Hot Licks in concert, May 1973 (ABC/Getty)
Arts highlights on BBC iPlayer
Watch 12 mesmerising performances from Dancing Nation, a sampler of UK dance in all its forms.

Chizzy Akudolu presents a new collection of dramatic short films.

The Oscar-nominated actress gives a singing masterclass.